Majority of council, board seats to be up for grabs this spring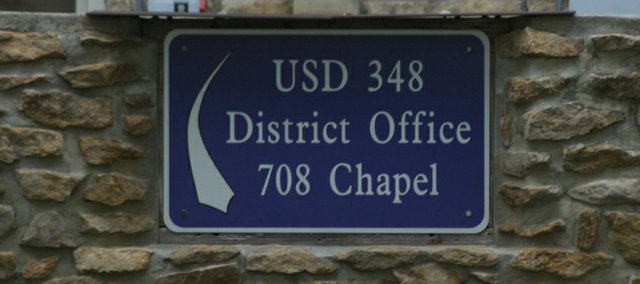 It could be an interesting first three months of 2015 in local politics with the majority of seats on both the Baldwin City Council and the Baldwin USD 348 Board of Education up for grabs.
Just how interesting will be revealed in the next four weeks. Candidates have until noon Jan. 27 to file for the council and board, said Ben Lampe, deputy of elections for the Douglas County Clerk's Office.
The three sitting City Council members whose seats are set to expire are Jason Mock, Shane Starkey and Ken Wagner. Those board members with expiring terms are Sandy Chapman, District 2, Position 2; Chad Christie, District 3, Position 3; Nick Harris, District 1, Position1; and Sheryl Gill, at large.
Although the two local bodies share the same election schedule, including the filing deadline, primary date of March 3 (if needed) and general election date of April 7, their election formats are much different.
All candidates for council will vie for the same three seats with the top three vote getters earning four-year terms on the council. Board contests are among candidates for geographically defined districts or the one at-large seat.
That difference also affects primaries. There will be a primary for City Council if 10 or more candidates file for the three seats, Lampe said. A primary will be necessary for a board seat if four or more candidates file for one of the four positions, he said. Voting for any primary in one board's three geographical district seats would be limited to those registered voters living within its boundaries, although voting in the April 7 general election will be open to all in the school district.
The board's District 1 includes that part of the school district north of U.S. Highway 56, west of Douglas County Road 1055 and neighborhoods immediately east of that road such as the Signal Ridge subdivision and homes south and west of the junior and high school campus. District 2 includes all the remaining territory in the school district east of CR 1055. District 3 consists of the area west of CR 1055 and south of U.S. 56.
There was a mixed bag of candidate filings for expiring board seats two years ago. No one filed for the District 3, Position 6 seat after incumbent Ande Parks decided not to seek re-election, and Ivan Huntoon won the seat as a write-in candidate. Nikki Tiller ran unopposed for her District 2, Position 5 seat, and Greg Kruger beat two challengers to win his District 1, Position 4 seat.