Face to Face: Nick Simon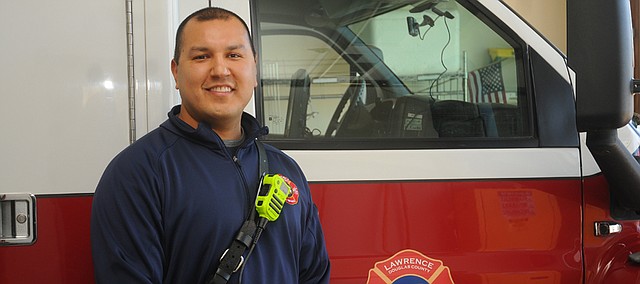 Nick Simon
Born: Holton, but grew up on the Kickapoo Indian Reservation in Brown County. "I also spent a fair amount of time growing up in Oklahoma."
Family: Simon and his wife, Alecia, have two daughters, 4-year-old Natalie and 2-year-old Brynn. "We're expecting our third child on New Year's Day. It will be a surprise. We don't know if we will have a boy or a girl."
Education: Tahlequah (Okla.) High School. Attended Northeastern State University in Tahlequah and earned a degree in fire science from Hutchinson Community College.
Hobbies: "Mostly daddy daycare. I like to camp and ride my bike. My wife and I like to go to concerts."
Career: Simon is a lieutenant with Lawrence-Douglas County Fire and Medical. Early this week, he was doing a tour in the Baldwin City station on Eisenhower Street. It's a tour he does "every other month or so," he said.
Digging deeper: Simon said he got into firefighting when he and his brother became wild-land firefighters in the mountains. About 10 years ago, he returned to his roots on the Kickapoo Reservation to work with the tribal fire department. He later had the opportunity to join Lawrence-Douglas County Fire and Medical.
"I like that I don't have a schedule or that I don't know what is going to happen next," he said. "I like the spontaneity of what's going to happen."