Antique sauerkraut recipe revived in downtown Baldwin City kitchen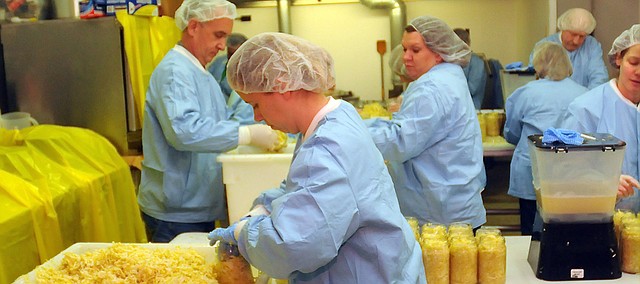 It's fitting the extended Rome family prepares its sauerkraut in the commercial kitchen at Antiques on the Prairie in downtown Baldwin City.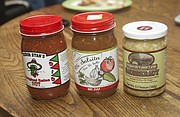 It might seem strange to prepare and jar sauerkraut in a kitchen that shares space in a building that was once a grocery store. But, Ray Rome, of Olathe, said his family was making sauerkraut in Kansas before many of the antiques in the adjoining store were made.
"My great grandfather brought the recipe with him when he came here from Germany around 1890," he said. "We use the same recipe. The big thing is we use no preservatives and no vinegar."
His great grandfather, Peter Rome, left Bavaria to settle in Hoganville in Graham County, a northwest Kansas town that disappeared when everyone moved to neighboring St. Peter, Rome said. The Rome family kept the memory of the old settlement alive through the years with the patriarch's sauerkraut, made as a treat for family members and a wider circle of friends and fans.
"When we started at my brother's place, we used 20-pound crocks," Rome said. "We'd make 3,000 or 4,000 pounds a year. We always gave it away. If you were a neighbor, you got it for free for 27 years."
That changed four years ago when the family members decided to market their sauerkraut with a name that honors their history, Hoganville Family Farms Sauerkraut, Rome said. Three of those years, they have used the commercial kitchen at Antiques on the Prairie to process the sauerkraut from raw cabbage heads to product ready for grocery shelves.
Rome said Thursday this year's processing started two weeks earlier with the delivery of 15,000 tons of cabbage to the Baldwin City kitchen. Family and friends then cored and shredded the cabbage heads before dumping the remaining slaw in stainless steel vats to ferment into sauerkraut.
The final processing involves filling from 8,000 to 9,000 jars with ripe sauerkraut, which then get a hot bath in another vat to complete the canning process before being wrapped up for shipment, with only the labels yet to be applied.
It's a process that involves 17 Rome family members, including Ray Rome's sister, two brothers, wife and two daughters. One of those daughters, Maleia Lake, traveled from North Platte, Neb., to join in last week's effort.
"It's a busy week," she said. "But it's a special time and fun, being with family and friends."
It's also special being part of a family tradition and providing a product that is special to loyal customers, Lake said.
"It feels good being at festivals when people come up and remember you and tell you how good our sauerkraut is," she said.
Festivals, including the Maple Leaf Festival, is one way the family markets its sauerkraut, Rome said. They also get it in customers hands through direct and online sales. Most of the jars processed last week are destined for shelves of the more than 100 grocery stores or specialty shops in Kansas, Nebraska and Missouri that carry the sauerkraut, including Baldwin City Market and an associated store in Eudora, Rome said.
Antiques on the Prairie co-owner Stan Vickers, who recently sold half the business to Nancy and Bill Lytle, said he installed the state certified commercial kitchen when he bought and remodeled the former High Street grocery store 10 years ago.
"I have a cheese dip I was thinking about marketing," he said. "I've never done anything with that, but I also knew a commercial kitchen would work with the other side of the business."
That's proved true, as customers regularly schedule blocks of time in the kitchen to produce such things as breads and other baked goods, jams, jellies, salsa and pasta, some of which are also available on the shelves of local stores. Vickers said he also makes the kitchen available to the Baldwin First United Methodist Church and other organizations planning fundraisers.
Among the commercial users is Steve Pierce, who produces his My Neighbor Steve pasta sauce in the kitchen from vegetables he grows near Baldwin City during his summers off from his teaching job in the Shawnee Mission school district.
"It's huge," he said of the commercial kitchen's importance to his business. "I don't know what people do in Jefferson County or where they don't have a commercial kitchen close by. It really helps keep down overhead to have it right here in town.
"It saves time, too. That's overhead, too. It would take a lot of time if I had to move everything to Olathe or someplace to do this."
Rome said that like all those using the kitchen, his family has to adapt their workflow process to the kitchen's layout, but they are grateful for the space
"We're happy to have this available," he said. "This is a lot more work than when we were giving it away, but maybe it will all pay off some day."