New Baldwin High School boys basketball coach faces rebuilding effort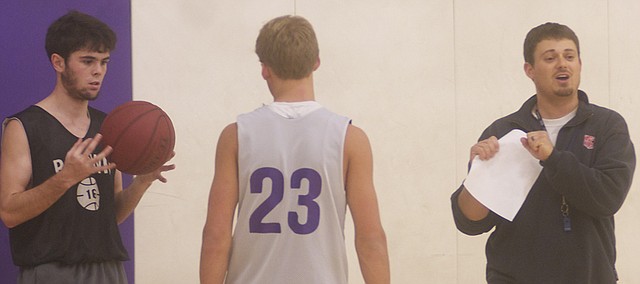 New Baldwin High School basketball coach Paul Musselman admits he is not stepping into an ideal situation.
The Bulldogs' new coach is starting from scratch, forced to replace five starters and the top reserve from last year's Frontier League Championship team.
"A recipe for success," Musselman joked.
But as a three-year assistant and freshman coach for Dustin Leochner, who announced his resignation soon after Baldwin's 2013-14 season ended with a heartbreaking loss in the sub-state finals, Musselman was knew the status of the program.
"This year's juniors were my first team," he said. "I had them at the freshman level."
With that background, Musselman knew inexperience wasn't a dire as it appears at first glace. Junior Jackson Barth was in the seven-man rotation last year at guard and senior Eric Peterson saw minutes. Also returning to the squad after a year away from basketball is senior Brock Randels, who saw considerable action as a sophomore when Chad Berg missed games with an injury.
The player who really moves the experience needle is 6-6 center Christian Gaylord, who was forced to set out the 2013-14 campaign following shoulder surgery. Gaylord, who racked up varsity minutes as a freshman and sophomore, has looked good in early season workouts, displaying excellent footwork and touch, Musselman said.
Having an anchor in the post dictates adjustments to his preferred style of play, Musselman said.
"Philosophically, I like to play an up-tempo game and pressure when we can," he said. "But because we have Christian, we don't want to run so fast we take our biggest advantage out of the game."
A key to this year's success will be the ability of the perimeter players to knock down open looks that develop from Gaylord's post presence, Musselman said.
No matter how the players respond to that test, it will be a challenging season, Musselman said. The Frontier League enters the season with three team ranked in 4A Division I. At the top of that list is Paola, who fell to state champion McPherson in the state semi-finals last year. In addition, Eudora is the defending 4A Division II champion and is led by sophomore Michael Ballock, who already has several college offers, including one from Kansas University.
The Bulldogs will try to gain confidence for the tough league schedule with an early season schedule that starts tonight with a game at Tonganoxie.
The team then has three contests next week in the Bulldog/Wildcat Classic at Anderson County.
"Tonganoxie was pretty solid last year but lost quite a bit, so they are in our shoes," Musselman said. "We should be competitive in that game and the tournament. That will tell us a lot about where we are."