Five Baldwin players selected to Frontier League post-season first team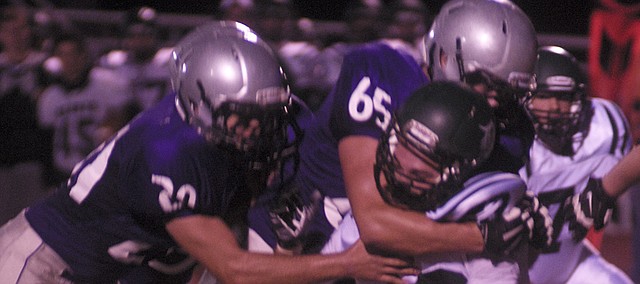 Five Baldwin High School football players were named to the All-Frontier League first team with two Bulldogs earning both offensive and defensive first-team honors.
Senior Christian Gaylord, a University of Nebraska commit, was an all-league first-team offensive line selection for the third time and named a second-straight year on the first-team defensive line.
Joining Gaylord as first-team defense was lineman Tiler Garcia, linebacker Joel Katzer and defensive back Garrett Burkhart.
Burkhart finished the season with 53 tackles, six interceptions and two fumble recoveries. Katzer led the Frontier League champion Bulldogs in tackles with 79 tackles and eight tackles behind the line of scrimmage. Garcia had 54 tackles, caused one fumble and had an interception. Gaylord had 47 tackles, five tackles for loss and two sacks.
Senior Tyler Davidson joined Gaylord as a first-team offensive line selection. They were the anchors of an offensive line who provided the push for the team's impressive ground game, which racked up 2,890 yard rushing and 25 touchdowns on the season.
Quarterback Joel Katzer accounted for 1,846 of those yards and 12 rushing touchdowns during his first-team all-league campaign.
Named to the second team was sophomore defensive lineman Justin Howard and senior linebacker Davidson. Howard led the team with 11 tackles for loss and had 53 total tackles. Davidson had 62 total tackles, five tackles for loss and one interception. He also recovered two fumbles.
Baldwin's honorable mention selections were senior defensive lineman Jon Pratt, junior Cole Wolff, who earned the recognition both as a defensive back and receiver, senior receiver Eric Peterson, junior running back Jake Katzer, who rushed for 384 yards and six touchdowns after missing the Bulldogs' first seven games, punter Joel Katzer and receiver Howard.