Experienced frontline seen as strenght for Baldwin girls basketball team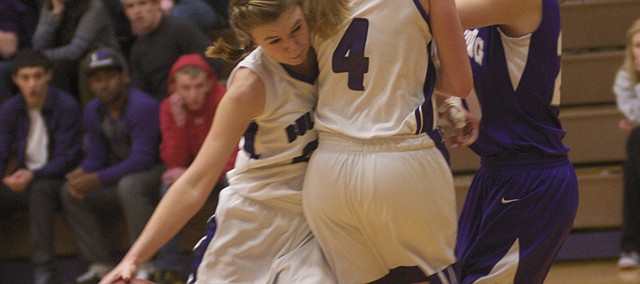 The Baldwin Bulldogs girls basketball team will start the season tonight at Tonganoxie with a deep and experienced squad.
Gone from last year's squad are leading scorer and first-team All-Frontier League guard Katie Jones, guard Hailey Cope and Karina Steinke. But a very solid core returns for the Bulldogs, including three senior starters, 6-1 center Alexia Stein, 5-10 forward Corey Valentine and 5-10 wing Maddie Ogle.
With the size and experience of those returning seniors, the inside game is the strength of this year's Bulldog team, said coach Bob Martin. The starters will have depth behind them with 5-10 junior Lily Fursman and 5-11 senior Jordan Hoffman, who is playing basketball for the first time since junior high.
"She's adjusting well," Martin said. "Her best basketball will be later in the season."
The team may not have the same level of experience at guard, but it does return two juniors who saw a good deal of action last season in Madeline Neufeld and Kyna Smith. Among the players backing them up will be freshman Abby Ogle and sophomore Taylor Cawley, Martin said.
"I'm really excited about what we have out front," he said. "We have a good set of four guards. Emma Stewart is another senior we will count on for leadership."
Martin, who always stresses team defense, likes what he sees from this year's squad.
"I think we have the potential to be a very solid defensive team," Martin said. "We're not there yet, but I think we will get there."
Although his teams have mainly played man-to-man in recent years, Martin said zone "might be a good defense for us this year" because of the team's inside strength.
The Bulldogs aren't the only team in the league with returning experience and a strong inside game, Martin said. Paola, Spring Hill, De Soto and Ottawa all have strong interior players back.
"This league is as good as any 4A league in the state," he said. "There is a lot of returning talent. Katie Jones was the only senior on the first and second all-league team last year. We'll be challenged every night."
That will prepare the team for post-season play, Martin said. Although most of the team's the Bulldogs play in the Frontier League are 4A Division I teams, Baldwin is a 4A Division II team for post-season play. Martin said its sub-state tournament assignment will be at Perry-Lecompton with the host Kaws, Santa Fe Trail and Bishop Ward.
The team opens the season tonight with a non-conference game at Tonganoxie. It will play next week at the Bulldog/Wildcat Classic at Anderson County.