Baldwin City man looking for new challenge after completing 50-mile marathon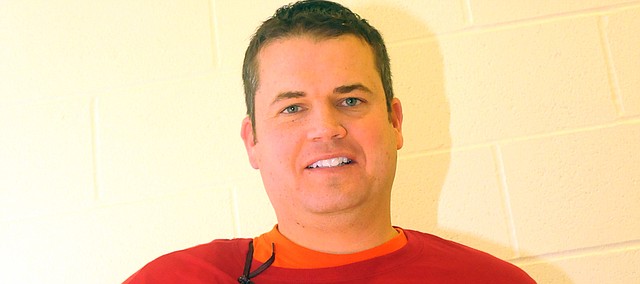 Justin Hoffman says people respond to his next goal as an ultra marathon runner much as they did his most recent one.
"People say I'm crazy, and then they ask 'Why?'" he said.
It is puzzling why someone willingly would run what is basically the distance of Baldwin City to Topeka. For Hoffman, it was a test to find his limits.
"I like to push myself to find out what I'm capable of," he said. "You really find out what kind of a person you are when you train for a race like that — how tough you are and how serious you are."
On Oct. 30, Hoffman completed a 50-mile "ultra marathon" that had him run from Ottawa to Garnett and back on the Prairie Spirit Trail. He finished in 10.5 hours, placing 21st of the 80 runners starting the race.
He was on cross country teams as a freshman and sophomore in the mid- and late-1990s, when Baldwin High School was first establishing itself as the most successful 4A cross country school in the state. He had some good junior varsity times but he was never good enough to crack the varsity, Hoffman said.
He got back into running about five years ago. His competitive running started with 5Ks, before he trained for and completed a marathon two years ago. With that goal accomplished, Hoffman started searching for a greater challenge. He found the Wichita-based Epic Ultra, which puts on ultra marathons, including the race in Ottawa.
Finding a race was just the start. The next step was researching how to prepare himself to run that distance. Hoffman first reached out to his old high school coach and the man behind all those BHS cross country state titles, Mike Spielman.
"I talked with him about building mental strength," Hoffman said. "He was great about advice to build that up, Take it one step, or in this case, one mile at a time, and not let negative thoughts come in."
Spielman recommended Hoffman study how the Navy Seals build mental strength for their rigorous training and missions. Hoffman said he spent hours reading a book on the topic.
Mental strength doesn't go far without the proper physical preparation. Hoffman said he started training in late winter for the race with a book on training for ultra marathons as his guide.
"I was averaging running 50 to 60 miles a week," he said. "At my peak training, I got up to 80 miles a week. My longest training run was 30 miles about a month before the race. That made me nervous because there's 20 miles difference between 30 miles and 50 miles."
He nonetheless cut back, because there was too much risk of injury from a longer training run, Hoffman said.
All that running required a considerable time commitment. He benefitted from free time in the summer from his job as a paraprofessional at Baldwin Elementary School Primary Center, but he did have to make adjustments so that training didn't take away from family time with his wife, Julie, and sons Mason, 5, and Jason, 7.
"She was really supportive," Hoffman said of his wife. "On a lot of my long training runs, she would pick me up when I finished, or bring me water or bananas on the route. She was my crew chief for the race. She was a great part of the team."
Although she did come around, her first reaction wasn't much different than that of others, Julie Hoffman said.
"At first, I thought he was crazy," she said. "But, I know how much he loves running. I knew he could do it if he did the training."
To minimize time away from family obligations, he began his long training runs in the early morning hours, heading out with a forehead headlamp, clothing adorned with lots of reflective tape and a flashing light on his back.
"On many of my training runs, I left at 2 or 3 in the morning because I coached my son's soccer team at 8 a.m.," he said. "My biggest fear was of being hit from behind by a vehicle, but I never had any problems other than sidestepping a few skunks and snakes.
"There's not much traffic at 3 in the morning. One time, I ran 8 miles on U.S. 56 and only had one car pass me."
As might be expected, the race on an unseasonably hot day was a challenge despite the training, and Hoffman admits he idea of quitting entered his mind.
"Those thoughts did come to me," he said. "I have never hurt so much in my life. I had to continue to tell myself how long and hard I'd worked to get to that day. I had to remember all Coach Spielman had told me about how to dig deep and finish the race.
"Once I reached mile 45, I realized it was going to happen and sailed to the end."
Helping was his wife, who brought encouragement with water and food, Hoffman said. Also providing aid and comfort were Baldwin City running friends Kasey Wright and Robby Giffin, who were allowed to run with him for sections of the second half of the race.
"Kasey ran with me for 14 miles, and Robby for 8," he said. "They were huge morale boosters for me."
Julie Hoffman said their boys understand what the accomplishment meant to their father, having watched him train and battle his way to the finish line.
"I think they do," she said. "They were really excited when he crossed the finish line. When I got them up early in the morning to take him food and water, they didn't like that. But they were always excited when the saw him. They ran with him for awhile a couple of times."
Having completed a 50-mile marathon, Hoffman is once again intrigued by the idea of testing himself further.
"I'm asking myself again, 'What now?'" he said. "I'm looking at a 100-miler next October. It would have a 28-hour time limit. I would be on my feet running all day. We'll see. I'll continue to run this winter and see how it goes.
"For anybody thinking about doing this, from a 5K to 100 miles, don't let anybody tell you that you can't do it. I wasn't a great runner in high school, but I was able to finish a 50-mile race with a pretty good time."