Baldwin school board broaches sale of vacant mid-town lot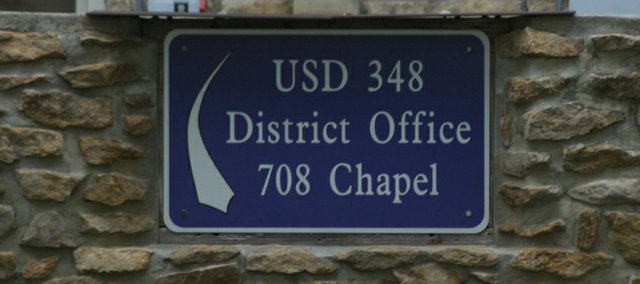 Although a Nov. 21 Baldwin school board special meeting was called to consider an offer for the closed Vinland Elementary School, board members signaled a willingness to sell other piece of surplus property.
The board tabled consideration of an offer from David McFarlane to purchase Vinland Elementary for $170,000 until Dec. 15 with instructions to the district administration to provide possible uses for the closed school and the cost of purchasing and installing a two-classroom mobile unit.
As the board debated the pros and cons of the Vinland offer, the status of other surplus district properties was broached. One that several board members indicated a willingness to part with was the vacant square block east of the old Chapel Street campus in mid-town Baldwin City.
When board member Ivan Huntoon questioned the need for the district to retain so many vacant properties, such as the empty mid-town lot, the Rhulen property west of the soccer field and the plot south of the junior high, it was noted the latter two properties abutted an active campus and could thus prove valuable for future expansion. That, it was also noted, was no longer the case for the Chapel Street vacant lot.
When arguing the district keep the Vinland school, board member Sandy Chapman said the mid-town property could be more valuable to a developer. She wondered what kind of offers the district might get if a for-sale sign was placed in the lot.
The district no longer uses the property and has no plans to do so. Although it could offer many options to a developer, it is too small for a school or a football or soccer field.
Currently, the Baldwin City Recreation Commission uses the property for baseball, softball and soccer practices, said BCRC director Steve Friend said. Access to the property is "very important" to the BCRC. which is already challenged to find venues for those activities, he said.
Discussion went no further at the special meeting, but the issue seems assured of coming up again when the board considers a facilities report Superintendent Paul Dorathy presented them last month that is to be on the board's Dec. 15 agenda.