Reloaded Baldwin boys soccer team starts season Friday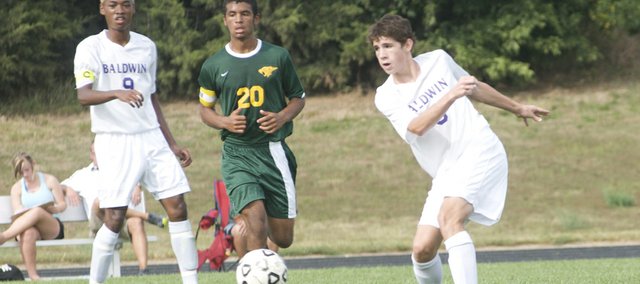 Eli Berndt figures opponents will look at what 2014 Baldwin High School soccer team lost from its state final-four team of a year ago and assume it will be a down year for the Bulldogs.
"I think everybody is going to underrate us," said the senior, who is one of four captains with fellow seniors Joel Dixon, Oliver Elphick and Collin Linder. "They shouldn't. We're going to surpass expectations."
Foes would be right in noting the Bulldogs lost a great deal to graduation from last year's 4-1A state final-four team. The list of departed stars includes Russell Cloon, Nick Joslyn, Austin Chapman, Nate Clem, Tyler Courtney, Duncan Murray, Ben Growcock and Hunter Young.
But, the 2014 Bulldogs served notice BHS is now a program when they finished third in the Sunflower State Games in July, losing only to two-time 5A state champion St. Thomas Aquinas.
Those players who needed to step up to make the Bulldogs successful again this year have, Dixon said. The experience of playing in the final four last year and in the Sunflower Games boosted team confidence, he said.
"It opened our eyes because we don't play against the talent those other teams had, and we competed with the best," Dixon said. "We showed well against St. Thomas Aquinas."
Berndt said he liked where the team was at and the way it had prepared.
"This is the hardest working team I've ever seen," he said. "I've been to Lawrence. They don't work near as hard as we do."
While not making comparison, BHS coach Mark Joslyn said his team has worked hard throughout the summer and early season practices. He likes its chemistry and its focus.
On Tuesday, Joslyn repeated his assertion from after the Sunflower Games that passing was a team strength. Helping replace the scoring punch lost with the graduation of his son, Cloon and Chapman will be wide attackers Dixon and Elphick with help from senior Noah Pippert and sophomore Caleb Othick, he said.
First-year player Linder will start at goalie after demonstrating quick reactions and instincts, Joslyn said.
Senior Karily Fiske and junior Logan Phillips have performed well in practice in defensive back positions, Joslyn said.
Discussion of the Frontier League always starts with De Soto. Joslyn said he expected the Wildcats to be near the top to the league again with a group that includes Louisburg, Spring Hill and Baldwin.
The team opens at 4 p.m. Friday with a home match against Tonganoxie, a team that was down last year after making the state finals in 2012. Joslyn said he expected Tonganoxie to again field a physical team.
"We're already preparing for that," he said.
The team will play again at 4 p.m. Tuesday at Paola.