Deep Baldwin High School football team looks to defend Frontier League title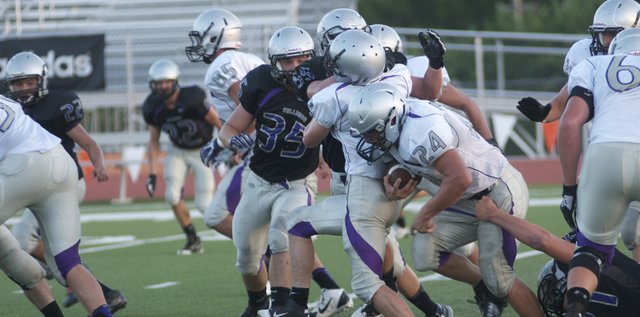 It would seem a rebuilIt would seem a rebuilding year is inevitable for the Baldwin High School football team after losing 16 seniors from the 2013 squad.
Those seniors were integral to the Bulldogs finishing the regular season a perfect 9-0 and advancing to the quarterfinals of the 4A state playoffs. In one sense coach Mike Berg's 2014 team has already rebuilt. It enters another campaign with 16 seniors. That is an increase of four in the class from the number of juniors on last year's squad.
"We've got some newcomers who haven't played before," Berg said. "We're excited to have them. I think kids like to be part of something successful and make it more successful."
Berg said his players also had a excellent off-season, putting the time and effort in the weight room to become bigger and stronger.
Berg's evaluation of his team always starts with the offensive line. Three of last year's starting offensive linemen were lost to graduation, but the Bulldogs' start the task of rebuilding that unit with one of the best players in the state in Nebraska commit and All-State tackle Christian Gaylord. Berg said the team is benefiting from the knowledge Gaylord has picked up at the various camps he's attended since he got the attention of college recruiters his sophomore year.

"It makes my job as a coach much easier to have someone so fundamentally sound who can demonstrate how things should be done," Berg said. "He's such a nice person. Everybody respects him and looks up to him. He has such great work ethic and is very coachable."
Also returning as a starter is Tyler Davidson.
Gone from the offense are breakaway threats running back Cornell Brown and All-State quarterback Chad Berg. The leading returning ball carriers are twins Joel and Jake Katzer. Jake Katzer was second to Brown in the number of carries last year with 119 and gained 763 yards. His brother had 78 rushes for 426 yards.
Berg said both Katzers were in the mix for starting quarterback with Nick Pattrick and Cole Wolff. The Katzers usually got the inside rushes last year, but Berg said his intention was for the Bulldogs to be a balanced team that could run inside, as well as stretch defenses on the perimeter.
Providing speed for the 2014 Bulldogs will be a number of fast sophomores and senior wide receiver Darius Johnson, whom Berg pegs as the fastest player in the league on the strength of his third-place finish to two seniors in the Frontier League 100-meter dash last spring.
Berg was able to get a lot of younger players varsity playing time last year as the Bulldogs built large second-half leads. Many of those same players got twice-a-week game experience with Monday junior varsity games, and the experience shows, the coach said.
Enough players rotated through on defense that Berg said he felt as if the Bulldogs were returning their front seven. Among the returning standouts are the Katzers. Jake Katzer led the team last year with 87 tackles (57 unassisted) and his brother racked up 57 total tackles with 39 solo stops. Also returning is Tiler Garcia with 40 tackles.
With 63 youngsters out for the team this year, Berg said he should once again have the luxury of substituting to keep players fresh. The depth is showing up in the preseason in the form of competitive battles at multiple positions, he said.
"We haven't been in the 60s for four or five years," Berg said. "We have a lot of kids trying to earn playing time."
As he looks ahead to the Frontier League, Berg points to Paola, who advanced to the 4A semifinals last year, and Louisburg, while expecting a bounce-back year from Eudora. He also looks from improvement from De Soto and Ottawa, which fielded young teams last year.
Fans will get their first look at the 2014 Bulldogs in the annual purple and white game at 7 p.m. Friday at Liston Stadium.