Baker student union interior renovations complete, patio work continues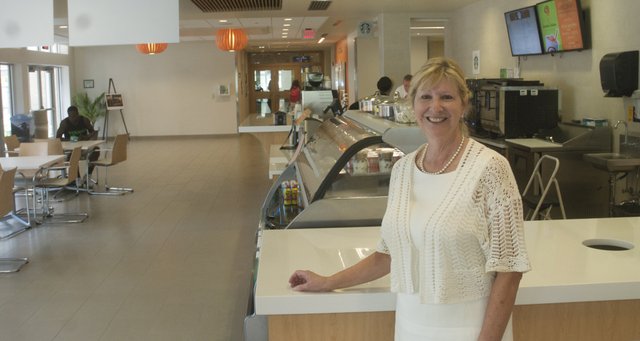 The first thing a daytime visitor to Baker University's newly renovated Harter Union eastern wing will notice is the light.
What was a rather gloomy, little-used reading area has been transformed into a light-filled, suddenly popular gathering space. Floor-to-ceiling windows line the area's southern exposure, and more natural light floods the space from three glass-enclosed student study suites on the area's east side.
Benefiting from all that light is a coffee bar vending Starbucks coffee drinks and the surrounding seating area.
Susan Lindahl, Baker University executive vice president for administrative services and chief operating officer, said the coffee bar, lounge and student study suites comprised the interior portion of the renovations, called the Pat Long Student Activities Center in honor of the university's recently retired 28th president. They, and the adjoining exterior patio now under construction, were designed from responses to a student survey.
"We asked students what they would like to have," she said. "They said they would like a place they could get quick grab-and-go, and of course coffee. We tried to design what's best for students."
Although the familiar green-and-white Starbucks Coffee logo is displayed above the coffee bar, it is not a full-fledged Starbucks, said Jeff McCollough, general manager of Sodexo Food Service's Baker University operation. Students, faculty and other customers can buy all the coffee drinks Starbucks offers, but the coffee bar doesn't sell Starbucks mugs and Sodexo provides the grab-and-go pastries available, he said.
Furthermore, the famous coffee vender shares the bar with another national franchise, Jamba Juice, which offers various types of fruit smoothies.
On Monday, the three new study suites at the union's east end were empty. Lindhal sees that changing as the semester moves on and students gather to prepare group projects. The two smaller suites to the north have tables seating up to six students, and the largest southern suite has a conference table capable of seating 10. All the suites are furnished with white boards, connective portals for electronic devices and flat-screen monitors.
"They're student think tank rooms," Lindahl said. "It gives students the opportunity to bring all their technology, plug it in on the desktop and connect directly to the screen on the wall."
The large southern room has a double-door that can be opened to add space to the lounge area for special events, Lindahl said.
Although the space was designed for student needs, Lindahl and McCollough encouraged community members to visit and sample the offerings at the coffee bar. McCollough said one segment of the community already seemed to have discovered Jamba Juice.
"It seems to be a hit with the local kids," McCollough said. "They've been coming in for smoothies and grab-and-go items."
The new renovations will be more inviting with the completion of the outdoor patio with ADA accessibility, Lindahl said. It was running ahead of its targeted completion date of Oct. 30, which is also the date of new President Lynne Murray's inauguration.
The architectural firm behind this year's renovation is GLMV Architecture of Wichita, Lindahl said. It was the same firm who designed the Susanne Teel Dining Hall, the first phase of the union makeover completed a year ago. Lindahl said Sodexo suggested the firm that specializes in dining and kitchen design.
Alumni donations covered the cost of current renovations and those of the Susanne Teel Dining Hall, so the university did not have to issue bonds or go in debt for the improvements, Lindahl said.
Sodexo, a French food service company that manages dining facilities at a number of colleges in Kansas, was contracted to take over Baker's food service in 2013 shortly before the renovated dining all opened.

"We were one of the last independent colleges in Kansas still operating our own food service," Lindahl said. "It's not our core mission."
With its larger purchasing power, Sodexo is able to offer students more, such as gluten-free foods, at a better cost, Lindahl said. It can also call in added staff for big events from its operation at Ottawa University and elsewhere, she said.
Baker did ask that Sodexo offer its employees the employment opportunities and the company continues to hire Baker students as part-time staff, Lindahl said. That has worked out as one of the former Baker employees has advanced in Sodexo and a former student part-timer has joined the company's staff at Baker since graduating, Lindahl said.