Kansas City Connection: Bakeries for any diet, and the return of Irish Fest
While more and more restaurants are offering gluten-free options and low-carb alternatives to bread, pastries and baked goods, I can't seem to get enough of the stuff. Fortunately for me — and for anyone else who enjoys European-style baked goods — the new Sasha's Baking Co. at 105 W. Ninth Street in Kansas City, Mo., offers a delicious variety of items made from scratch each day.
Sasha's Baking Co. opened last fall around the same time as the Milwaukee Delicatessen next door. Both businesses are located in the former Cosby Hotel, a 132-year-old building that has been tastefully remodeled to showcase its old-fashioned character and class.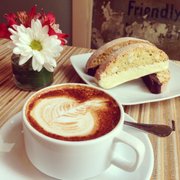 More importantly, the croissants, sandwiches and pastries at Sasha's are delicious. The ham and cheese croissant is compact but substantial, and a variety of breads (foccacia, rye, pain rustique, whole wheat) are available for $7 a loaf. My only word of caution is to ask about the prices before you order. The poppy seed pastry topped with candied oranges I had last week was delightful, but set me back $5.50, while the muffins and sticky buns were a more modest $3.50.
Sasha's is open from 7 a.m. to 2 p.m. Monday through Saturday. To view a menu and learn more about the operation, visit sashasbakingco.com.
Mud Pie
Those who enjoy baked goods but follow a stricter gluten-free or vegan diet should visit the charming Mud Pie Vegan Bakery and Coffee House on 1615 W. 39th St.
Mud Pie opened in 2011 in a location that has been a coffee shop of one name or another for decades, but the concept of serving coffee and baked goods for those with dietary restrictions, food allergies and health concerns was a new and refreshing one for Kansas City. Soy- and coconut-based creamers take the place of dairy products, with popular items including raw brownies and gluten-free cookies.
Another thing that makes Mud Pie stand out is its setting in an old two-story house. The upstairs is split into several different rooms, one of which is complete with children's toys, books, activities and even a baby gate. It's a great place for parents like me to down a couple of mason jars of cold-press coffee and vegetarian sandwiches (made by local vegan restaurant Füd) while our 2-year-old daughter can play without disturbing the med students and chess enthusiasts who frequent the joint.
Mud Pie is open from 7 a.m. to 8 p.m. Monday through Thursday, 7 a.m. to 9 p.m. Friday, 8 a.m. to 9 p.m. Saturday and 8 a.m. to 7 p.m. Sunday. Visit mudpiebakery.com to learn more.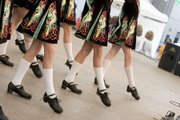 Irish Fest
From Friday through Sunday, KC Irish Fest will take over the outdoor grounds of Crown Center with musical acts, comedy, children's activities, and, of course, truckloads of Guinness and other stouts, ales and lagers.
One of the three largest Irish festivals in the nation, KC Irish Fest is a great place to take the kids or to go with a few friends to soak up some suds, sunshine and live music.
The festival runs from 5 to 11 p.m. Friday, and from 11 a.m. to 11 p.m. Saturday and Sunday. For more information, visit kcirishfest.com.
SantaCaliGon Days
The end of August marks the beginning of a series of seasonal festivals including Independence's SantaCaliGon Days, a four-day event that pays tribute to the city's origins at the crossing of the Santa Fe, California and Oregon trails. What used to be a modest affair with a beard and mustache contest and a pioneer costume competition has since evolved into a full-scale carnival, concert and history festival that includes vendors, food and a 5K run/walk.
SantaCaliGon Days begins at noon Friday and runs through Monday at 5 p.m. at the Historic Independence Square (Osage to Memorial Drive, between Truman and Walnut streets). All events are free except the carnival, which costs $22 for adults. Visit Santacaligon.com for a full listing of events.
Museum events
On Saturday, the Kemper Museum of Contemporary Art will hold a Summer Block Party from 7 to 10 p.m. with art, music and sweet treats, as well as a showing of Willy Wonka and the Chocolate Factory. The museum, which celebrates its 20-year anniversary this year, is at 4420 Warwick Blvd.
Friday night, the Kansas City Museum's Summer Concert series continues with a performance by guitarist Beau Bledsoe's Cuarteto Coyoacan. The group, which includes vocalist Fedra Cooper Barrera, will perform the folkloric styles of Mexico. The concert is free to the public and will take place from 7 to 9 p.m.
The museum is at 3218 Gladstone Blvd. in the historic Northeast neighborhood.
KC Royals
Finally, don't miss a chance to see the Kansas City Royals as they open a 10-game homestand that includes contests with the Yankees (Monday), Twins (Tuesday-Thursday), Indians (Friday-Sunday) and the Rangers (Sept. 1-3). Tickets are available online at kansascity.royals.mlb.com.
— Lucas Wetzel is a writer and editor from Kansas City, Mo. Know of an upcoming event in Kansas City you'd like to see featured in Kansas City Connection? Email us about it at kcconnection@ljworld.com.