Baker mass media professor receives distinguished teaching award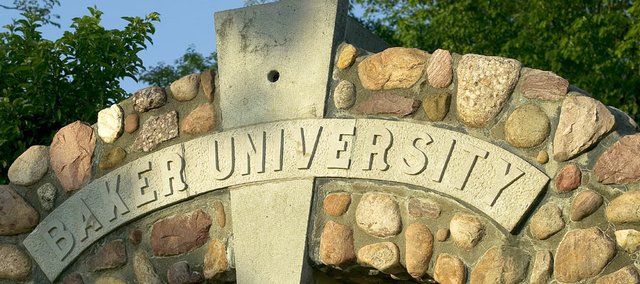 Before becoming a professor in 2005 at Baker University, Joe Watson worked 15 years in television news and four years in public relations.
"My time in television and public relations go hand in hand with my teaching," said Watson, associate professor of mass media and chair of the mass media and visual arts department. "I am able to share personal experiences about the working world. My students get to hear what kinds of situations and challenges I faced, and I always try to connect it to what they are studying or what we're talking about in class. They also get to learn how I handled or resolved a situation. I think those years of experience give me added credibility in the classroom."
Baker's Kopke winners
Previous winners of the Kopke award are Karen Exon (1998), Anthony Brown (1999), Lee Green (2000), Rand Ziegler (2001), Inge Balch (2002), Darcy Russell (2003), Tracy Floreani (2004), John Richards (2005), Ryan Beasley (2006), J.D. Parr (2007), Cynthia Appl (2008), Cal Cink (2009), Jacob Bucher (2010), Martha Harris (2011), Susan Emel (2012) and Sara Crump (2013).
For his efforts teaching broadcasting, media and public relations courses, Watson in May was named the recipient of the Jennie Howell Kopke and Verda R. Kopke Award for Distinguished Teaching. The award recognizes a faculty member, without regard to rank or years of service, who has a record of excellence in teaching and in transforming students into scholars, who brings honor to the university and who exhibits good moral character. Recipients also receive a $5,000 cash award. Charles Kopke, a longtime supporter of higher education, established the distinguished award in 1998 to honor his late mother and late wife.
"We have so many outstanding faculty at Baker," Watson said at the time. "It's a humbling honor to be singled out among my peers. I'm grateful to Dr. Pat (Long) for selecting me and to Charles Kopke for creating a way to honor the incredible teachers we have at Baker."
In 2005 he completed his doctorate in mass media at Kent State University. Four years earlier he finished his Master of Arts at the University of Akron. His master's work was completed while serving as public information manager for Cleveland Metroparks. His TV career included stints at KOAM-TV in Pittsburg, and Joplin, Mo.; KZTV in Corpus Christi, Texas; WILX-TV in Lansing, Mich.; WJRT-TV in Flint, Mich.; WUAB-TV in Cleveland; and WKYC-TV in Cleveland.
While earning his master's degree at Akron, he was asked to teach a class.
"It was a life-changing moment," Watson said. "I was unprepared for how much I enjoyed teaching college students. It didn't take long to realize this path would lead me into higher education."
During his professional and academic career, Watson has been fortunate to have many mentors. When he was an undergraduate at Pittsburg State University, Rob Gobetz, who had a career in radio before transitioning to academia, served as his adviser.
"He was always positive and encouraging, and I loved learning from him," Watson said. "That was 25 years ago. Today he's on faculty at the University of Indianapolis. We still keep in touch."
In television, Watson learned a lot from Barbara Schroeder, a former anchor at WJRT-TV in Flint, Mich., where he worked as a news producer. She later anchored for KTTV, the Fox affiliate in Los Angeles and is now an independent film producer.
"She's a real go-getter who has taught me a lot about taking chances and not being afraid to try new things," Watson said.
While working on his doctorate at Kent State, Watson was influenced by Alan Rubin and Paul Haridakis. Gwyn Mellinger, former department chair of mass media and visual arts at Baker, continues to be a great friend and mentor to Watson.
"We speak frequently and I can't imagine I'll ever get to a point where I won't find her guidance valuable," Watson said.
Maintaining contact with mentors and media professionals has been beneficial for Watson while trying to keep pace with the challenges of changing technology and trends.
"Technology has changed media production and consumption in ways none of us could have imagined a few years ago," Watson noted. "Advancements keep happening, so there's no way to predict what we'll be doing to produce media content a decade or two from now."
Watson attends multiple conferences to stay on top of changes in the media field.
"I read constantly to know what's happening in the industry, and I am a full-time media consumer," Watson said. "I consume an inordinate amount of television, radio, newspapers, magazines, and Internet content. I'm also pretty active on social media, which is a cornerstone of what media personnel need to know these days."
As chair of the mass media department, Watson plays a key role in revising the curriculum in fairly significant ways every few years.
"We have to ensure our students are getting what they'll need to function as media professionals," he said. "It's a lot of work to stay on top of it all, but it's also a lot of fun."
Watson also enjoys "seeing the light bulb" go on when students finally "get it."
 "I love seeing my students develop a love for media and how it impacts our society, and it's wonderful to watch them grow while they are at Baker," he said. "I also appreciate the graduates who have become friends. I get together pretty often with a lot of my former students. I really cherish those relationships."