Murray proud to be Baker's 29th president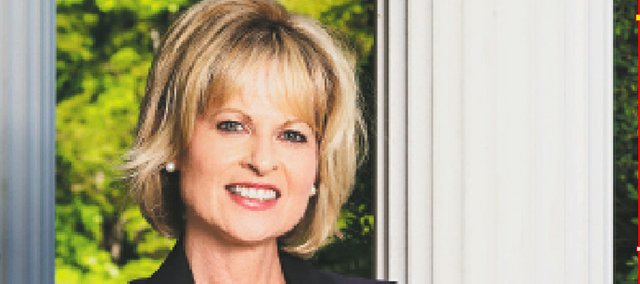 Ever since she participated in grade-school oratorical contests, Lynne Murray has been comfortable in front of a crowd.
An essay contest sponsored by the local American Legion in Ridge, Md., piqued Murray's interest as a second-grader. She entered and placed first for her entry in "What America Means to Me" and received a government bond. Since that moment, Murray savors those times when she can speak before a crowd.
"That started an early love for writing and oratory," said Murray, who was announced in December as Baker's president before she officially took the leadership position on July 1.
Letter from president murray
Dear Baldwin City community,
I am honored to be a resident of this fine city and to serve as the 29th president of Baker University.
Since arriving in Baldwin from the Washington, D.C., area in July, I have learned how special Baker is to you and the city, which truly takes pride in the university because of all it has to offer in enhancing the community. When my husband, Jeff, and I first toured the campus and city last fall, we felt an immediate connection and looked forward to making Baldwin our home. We and our two dogs, Kassie and Lucca, quickly became familiar with the streets around campus during our evening walks. We look forward to experiencing the Maple Leaf Festival in a couple of months and all of the other traditions that make Baldwin City unique.
Founded in 1858, Baker has long been known for its distinctiveness in terms of academic excellence and values. This is the place where I believe we can come together with the community to create a real positive experience for the students and to look to the future of this iconic Kansas institution. We anticipate more than 220 new students this fall, and I know you will make them feel welcomed.
Please join me this year to support our outstanding students in all of their endeavors, including musical and theatrical productions in addition to our championship athletic teams.
Sincerely,
Dr. Lynne Murray
Baker University President
An administrative leader known for raising the national and international profiles of educational and nonprofit institutions for more than two decades, Murray succeeded Patricia N. Long, who retired in June after eight years as Baker president. Before becoming Baker's 29th president, Murray served as the vice president for development, international and alumni relations at Washington, D.C.-based Gallaudet University.
Bonnie Bowes, Murray's oldest sister and director at Deloitte Consulting in Australia, takes pride in seeing her sister succeed and career develop. Bowes knew at an early age that her sister had the desire and characteristics to lead.
"She is a well-rounded, happy, successful, risk-taking individual," Bowes proudly noted. "Her early leadership qualities emerged in elementary school. She always knew what she wanted and found a way to put a successful plan in place to make it happen. There were five of us girls growing up, all striving for attention and recognition to stand apart from the pack. We constantly tried to overachieve to gain attention. Lynne's core values include treating people as people — helping them to be their very best by giving them opportunities, working hard for the right reasons, adding value every day, and never compromising on your beliefs. These have guided her professional and personal life."
Patriotic pride and work ethic
Murray's family has strong military ties. Her stepfather, Wayne Wise Jr., grandfather Wayne Wise Sr. and maternal great uncle Jim Travers all served in the Navy. Her biological father was in the Coast Guard. That connection helped her provide a personal touch in several of her early speeches.
"They were all instrumental in my upbringing," she recalls. "These men and their backgrounds played a huge role in my life because we grew up with a strong sense of patriotism and respect for the men and women who serve our country."
Travers especially has been an inspiration to Murray. He survived the bombing of Pearl Harbor when he served in the engine room on the USS Maryland. He rarely spoke to the family about the experience. Her grandfather, another WWII survivor and man who rose above his humble beginnings to found his own construction company, Wayne Wise & Sons, also avoided talking about his military career. She learned a lot about work ethic and respect by observing her relatives.
"These men taught me that success is not measured by the titles one has achieved in life but rather by the obstacles one has overcome while trying to achieve, as aptly surmised by Booker T. Washington," Murray says. "Greatness is determined by one's values and one's generosity of spirit and what is beautifully gained simply because these individuals have played a role in your life. It is no surprise then that I value hard work and because it opened doors for me, I highly value education. From an early day, I knew that college meant for me a way out, up or simply a different way than the generations before me."
Murray attended St. Michael's School in Ridge, Md., where the teachers challenged students to reach their potential. A town with 1,000 residents and popular for its seafood restaurant, Ridge is near the southernmost tip of the western shore of Maryland, known as Point Lookout, with bodies of water on both sides. Her school was small and the students were like family. The same group of classmates — all 20 of them — started together in the first grade and remained together through the eighth grade. After graduating from the eighth grade, Murray headed to Great Mills (Md.) High School, where she graduated with close to 200 students.
Ridge is so remote that the nearest city in all directions was 30 minutes away. It took two hours to travel to Washington, D.C. Murray and her sisters learned about responsibility at an early age when both of their parents left early every morning for their jobs near D.C.
"It was up to my older sister and all of us to get ourselves up and make breakfast and our lunches," she recalls.
When they were 14, Lynne and her twin sister, Laurie, started working as dishwashers — earning $2.65 an hour — at Scheibles, the only restaurant in Ridge. They walked or caught rides to work with the older waitresses. Murray remembers the feeling of complete fatigue and the gratification of a job well done at the end of a long shift.
"I learned early to respect all people — no matter one's position or title," she says. "My parents were hard workers; the men I worked with at Scheibles who were fishermen and fishing boat captains were hard workers, and I respected them."
Calling to higher education
In her advancement role at Johns Hopkins, Lynne and her team raised millions of dollars through the Children's Miracle Network to support the children at Johns Hopkins Hospital. There she met Marguerite "Peg" Hall, vice president of development and alumni relations at Gallaudet. She convinced Lynne to leave Johns Hopkins and join her development team at Gallaudet.
When she arrived at Gallaudet, a federally chartered private university for the education of the deaf and hard of hearing, Lynne did not know any sign language. She had two workers in her office who were deaf, which served as an impetus for her to learn the language.
"I immersed myself in daily classes, and (my husband) Jeff and I paid privately for tutoring lessons for me so that the language barrier wouldn't interfere with the job I was hired to do," she explains.
One of her greatest personal moments at Gallaudet was getting her first gift — a $3,000 check — from a corporate donor. She proudly framed it.
"Dr. Peg Hall was an amazing supervisor who learned of my dreams to continue growing in education and eventually become a vice president," Lynne says. "She provided opportunities for me to meet with faculty members, including deans and even the president in the early days of my career."
It was also the first time Lynne met Gallaudet President Dr. Irving King Jordan, a person she admires as a leader, mentor and dear friend. One of her most cherished memories is when she had secured her first $1 million gift to Gallaudet. Unbeknownst to her, King and his wife, Linda, called a special meeting of the development office and uncorked a bottle of champagne to celebrate the occasion.
King, who became Gallaudet's first deaf president in 1988, has known Lynne for nearly 20 years. He is confident in the new president's ability to lead and is impressed by the focus Lynne has maintained since the time they met.
"It was as if she hung on every word that others were saying, and I could see how she was processing and storing the information she was picking up," Jordan notes in an email. "The first impression is still an accurate one. She is a lovely person and very easy to know, but when she is on the job, she is on the job with 100 percent focus."
Establishing and maintaining friendships has served Lynne well in her role as a fundraiser, Jordan observes.
"She knows that people give to people and that by making a good connection and establishing a personal relationship, she will have success," he explains. "I am very sure she will be a highly successful president. She has advanced quickly in university administration, but during that time she has been very attentive to others. She is a good manager and people will enjoy working with and for her. I would venture to guess that among her early days on campus she will spend a lot of time out and about in order to get the pulse of the University and to meet as many people as possible."
Another important milestone for Lynne came in the early 2000s when she began working toward her Ph.D. from Gallaudet University, leading to the defense of her dissertation in American Sign Language. Dr. William "Bill" Marshall, her Ph.D. professor and chairman of the department of administration and supervision, challenged her to aim high in her career after she told him her life ambition was to become a vice president of development. He was the first to ask her, "Why not president?"
"It was the first time in my life that I dared to think it," she recalls.
Marshall believes Lynne has prepared well for this moment.
"Dr. Lynne Murray is a true leader who has the dreams, vision, and managerial wherewithal to assist Baker in bringing about future levels of continued accomplishments," Marshall notes in an open letter to Baker. "She has consummate mastery when it comes to involving people and suggesting future directions for the university to consider. Shared governance acquires a new champion and will thrive on the qualities she brings to Baker University. Dr. Murray not only communicates and listens exceptionally well, but she walks the talk. She puts others first — herself last."
During one of the first classes with Dr. Marshall for the doctoral students, Lynne and the others were all asked privately to answer, "Where do you see yourself in 10 years?" Lynne put her answers in a self-addressed envelope and returned them to Dr. Marshall. For six years, Lynne studied the successes and failures of several university presidents, gaining a better understanding of how to best approach different leadership situations. The day she graduated in 2008 and walked across the stage, she went to shake Dr. Marshall's hand and receive her diploma. As she did, Marshall slipped an envelope into her hand. She sat down and curiously turned it over to find out that it was her handwriting on the back, and the self-addressed letter from six years before was once again in her hands. When she opened it, she was reminded that in 10 years, she would like to be a university president.
Before arriving in Baldwin in late June and moving into the Collins House with their two standard poodles, Kassie and Luke, the Murrays spent three weeks traveling in Greece, one of their favorite travel destinations. After relaxing in June, Lynne is eager to start her new position.
"That moment has come and I'm excited and as prepared as I think I can be, thanks to the teachings, indeed the life lessons, I've learned from Dr. Marshall, Dr. Hall, Dr. Jordan and my parents, and family," Lynne says. "And, I will not forget, either, one of the lessons they taught me, which is titles come and go, so don't get too attached to them. Instead, be who you are every day and look for ways to touch other people's lives in meaningful ways. After all, isn't that how we'd all like to be remembered? For people will not remember us for the titles we have, the cars we drive or the houses we own but for how we left them in that one moment when we had the opportunity to touch, perhaps even change, their lives like when a stern-looking professor looks across his desk and asks, '…why not president?' "