Mother-daughter pie team provide slice of Baldwin City history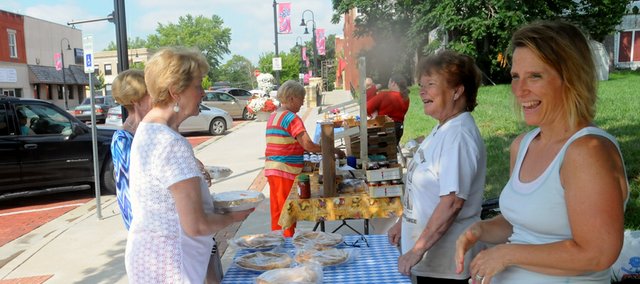 Charlene Potter and her daughter Charlene Hannon sell a little community history with each pie they vend at the Baldwin City farmers' market.
The pies spread before them on a table Saturday morning at the market west of the Baldwin City Post Office were filled with apples, peaches, various berries and rhubarb. But they also include a bit of the family history that has touched nearly a half a century of community students from elementary school through Baker University. It's a history that never seems too far away.
"It seems like nearly every week people come by to say hello," Potter said. "Saturday it was the sorority gals."
This last Saturday, the table became an impromptu reunion when five past members of Baker University's Delta Delta Delta Sorority dropped by the market to visit with Potter and Hannon before going to lunch. Potter and Hannon were both Tri-Delts during their Baker years, as were Potter's sisters Mary Jane Chubb and Alice Anne Callahan-Russell.
The Potter and her two sisters eventually found their way back to Baldwin City after graduation. Callahan-Russell was the first to return, taking a teaching position with the Baker music department in 1953. Chubb followed in 1958 and was a Baldwin High School counselor until her retirement in 1991.
After her graduation from Baker, Potter played violin with the Kansas City Philharmonic "until they went on strike." She returned in 1968 to Baldwin City to launch a teaching career that earned her a place in the Kansas Teachers Hall of Fame, teaching most of her years at the now-closed Marion Springs Elementary School.
That kind of community history develops a lot of ties, especially in women as generous as the three Callahan sisters, said Alice Kenney, of Kansas City, Mo., one of the former Tri-Delts catching up with the two Charlenes on Saturday.
"Alice Anne drove all the way to Tulsa when I got married," she said. "She gave me a cookbook from all three sisters that they had illustrated. It's very artistic. I still have it."
It was a special present because the talented sisters were known as excellent cooks, said Kinney, who bought a couple of pies during her visit.
The pies were made in the home Potter, Chubb and Callahan-Russell built in 1964 on Ninth Street. It was home to all three until Callahan-Russell married Baker art professor Tom Russell. Chubb raised her four children in the house, and Potter her three daughters.
The pie business started with Chubb and Potter's retirements. Not being the rocking chair type of retirees, that grew into supplying pies to various restaurants in town.
"Mom and dad were both excellent cooks," Potter said. "It was a natural thing. At the same time, we found a need for it in Baldwin City. It's a nice way to make some money and a way to make people happy."
When Chubb decided to give up baking pies for restaurants in early 2012, Hannon started partnering with her mother.
Potter said she thought it important to teach all her daughters to cook and bake while they were growing up. She also understood when Hannon didn't develop a passion for the kitchen as a teenager.
"When you're in high school, you're not in the mood to stay home and cook with mom," Potter said. "After she finished high school and got married, she took right to it. She does it so efficiently. I have to give it to her. She's always cleaning up after me."
Hannon said any praise belongs to her teachers.
"They were pretty great teachers," she said. "They were very patient, and they are quality bakers."
The mother-daughter team now cook from 30 to 40 pies a week, with 10 to 20 of those made for the Baldwin Depot Diner. She has her summers free, but time would become an issue as she heads back this week to her job as kitchen manager at Baldwin High School, Hannon said.
It seems the family's fate is to keep touching more lives through the kitchen. Potter notes another daughter, Julie Craig, is too busy as a Lawrence accountant to do much baking. But as co-chair of the annual Vinland Fair with her husband, Mike, her pies are among those served at the annual fair.