Baldwin City bait and tackle shop still lures in fishermen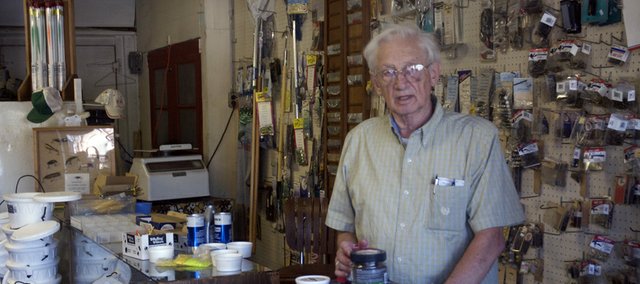 Much has changed since Gene Nelson first bought his bait and tackle shop at 321 Ames St. in 1981.
Then, the shop was next to a boat dealership that benefitted from Kansas City traffic buzzing by on U.S. Highway 56 headed to Clinton Lake.
"At that time, U.S. 56 was the main route from Kansas City to Clinton Lake," Nelson said.
That changed when the new Kansas Highway 10 was built with its shorter four-lane access to Clinton Lake and the opening of Hillsdale Lake, which provides closer fishing and boating opportunities to Kansas City outdoor enthusiasts. Nelson also believes fishing and other outdoor activities have suffered as parents point their children to competitive team sports.
That's not to say the business at Sports Cache Bait and Tackle has disappeared with the boat dealership next door. The shop is crowded with display cases and racks filled with rods, reels and tackle. The inventory includes items the serious sportsman would covet and pastel reels that light up when cranked, which Nelson said appeals to daughters and girlfriends.
The bait and tackle shop also has a list of baits that includes lures, frozen baits, stink baits and live baits. It's that last offering, which includes minnows, goldfish and worms, that's the big draw, he said.
"That's something you can't get at Wal-Mart or Dick's Sporting Goods," he said. "Many shops have went out of business. We just lost a supplier."
As someone who began fishing as an 8-year-old boy and who still casts his line twice weekly, Nelson knows which of the baits are most effective for the fish swimming in area lakes. He has several that are in demand for those fishing for channel cat. That's fortunate because the Douglas County State Fishing Lake is one of the top-five lakes in the state for channel cat, Nelson said. The old city lake also ranks high.
The two lakes are also two of the state's best for redear, Nelson said. Speaking with the authority of a retired biology professor — Nelson taught biology at Baker University for 28 years and was head of the department for 26 — he explains many people mistake redear for the very similar bluegill.
"They're fun to catch," he said. "They get up to 6 or 7 inches and have a lot of fight. They're good eating."