Face to Face: Emily Wright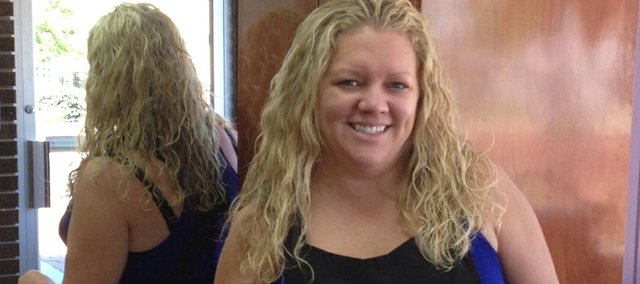 Emily Wright
Born: I was born in Wichita, but I never lived there. I grew up in Manhattan.
Family: Husband, Byron, and two children, Addison, 4, and Emmett, 2.
Education: Graduated from Manhattan High School and Crum's Beauty College of Manhattan.
Hobbies: "I like anything crafty. I like shopping. I'm really into going to sporting events with my family — Kansas State and the Royals. Go Royals."
Career: Wright has been a hair stylist for 11 years. She said she previously worked in Manhattan, Little Rock, Ark., and Lawrence before buying what is now Wright's Hair Salon from her mother-in-law Martha Wright in January 2013.
Digging deeper: Wright said she and her family moved to her husband's hometown of Baldwin City from Lawrence in June 2013. Having always lived in larger communities, she is adjusting to small-town life, she said. Wright does find it a very good place to raise a young family. She is happy for the presence of Baker University in the community because she likes living in college towns.
Wright said she enjoys being her own boss and the flexibility of schedule that affords. She likes working in cosmetology because she enjoys interacting with customers and "making people feel good about themselves."