Baldwin City girl returns home from training at famed New York City dance company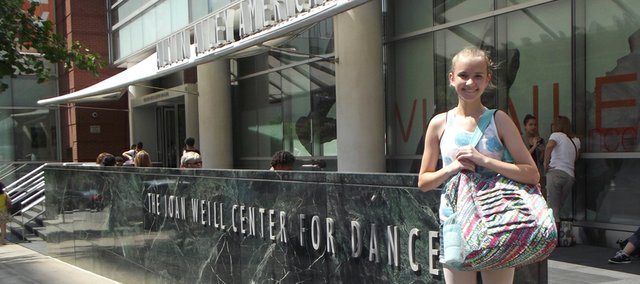 Five weeks of rigorous training at a famed New York City dance studio has only whetted a Baldwin City girl's appetite for dance.
"After five weeks, I took last week off," Luisa Pierce said. "I start classes Thursday at the Lawrence Arts Center. I can't wait to really start dancing again."
Pierce, who will start her freshman year next week at Baldwin High School, returned home last week after attending the five-week Summer Dance Intensive Program at Alvin Ailey American Dance Theater three blocks from Broadway in Manhattan. The serious dance student with the goal of becoming a professional dancer found the experience fun. That is not to say the program, with its five-and-a-half hours of daily training, was a carefree, laid-back vacation.
"They really worked me hard," she said. "I loved all my instructors. They were very demanding, but they were fun."
Pierce was selected for the program after an audition at the Lawrence Arts Center's School of Dance. Pierce raised some of the tuition money with odd jobs and from doing volunteer work for pledges. Family friends and the Baldwin City Business and Professional Women also helped.
Luisa and her father, Steve Pierce, a teacher in the Shawnee Mission school district, stayed in a New Jersey apartment across the Hudson River from Manhattan. They were joined the last week of the program by her mother, Annette, and brother Joe.
On Mondays, Wednesdays and Fridays, her days started with a 9 a.m. ballet class before attending a modern dance class in the style of Ailey's mentor, Lester Horton. Tuesday and Thursday classes started at 10:30 a.m. with ballet pointe work.
"We were mostly on our toes the whole class," Pierce said, producing a pair of pink flat-toed ballet pointe slippers she wore in the class. "It really works the whole leg. I could feel it later in my legs but especially in my feet."
All five days concluded with her group of 25 rehearsing for its final Horton-style jazz presentation they would perform twice on the program's final day, Pierce said.
"It was so much fun, and the music played was Beyonce," she said. "So we had really fun music and all these really great dances."
Annette Pierce, who was able to watch some of Pierce's training the final week, said she was impressed with the instruction as someone who studied ballet in her youth. The level of detail the ballet instructors demanded probably did surprise Steve and her son, she said.
"They would physically correct the angle of a finger," she said.
Her fellow students came from many different states and from Caribbean islands, Pierce said. They, too, were serious about learning new skills and improving techniques, she said.
It was a commitment that was obvious in rehearsals, her father said.
"Their instructor gave them 40 steps to learn that they had to work into a dance in 20 minutes," he said. "They did it without any problems. Joe and I were like 'wow.'"
Pierce said she returned a better dancer.
"My technique is better," she said. "I got a lot stronger in my legs and core and my feet also. I came home with a lot of new stuff."
She's excited to share her improvement with fellow students at the Lawrence Arts Center's School of Dance, Pierce said. Some of them attended a summer program through the Kansas City Ballet so they, too, will be improved, she said. The prospect of demonstrating their improvement was especially exciting, she said.
"I love performing," she said. "That's my favorite part of dance. The nervousness is what makes it the best for me."