Baldwin City community rallies to support former teacher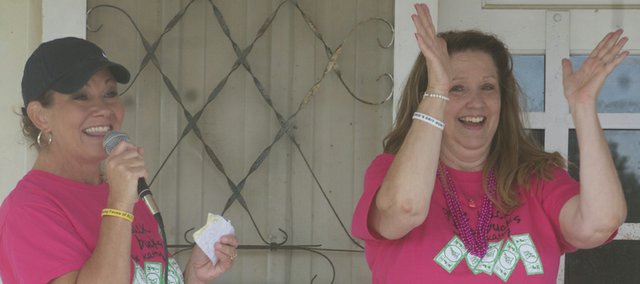 Two things were on Kathy Johansen's mind Saturday after the final runner crossed the finish line in a 5K fun run in her benefit.
Foremost was her gratitude for the community support that brought about 175 participants to the Saturday morning event at the Baldwin City Municipal Golf Course.
"It's wonderful," Johansen said. "Baldwin City is the best place to live ever. Everybody has been so supportive. I'm so thankful."
Johansen and her daughter, Kyleigh Roberson, said Saturday's turnout was but the latest example of the community rallying to Johansen since she was diagnosed earlier this year with myotrophic lateral sclerosis, also known as Lou Gehrig's disease. It was a diagnosis that prompted Johansen's premature retirement from a 35-year teaching career, of which the last 14 were as a language arts teacher at Baldwin Junior High School.
The fun run, called Give Back the Bucks as homage to Johansen's use of classroom "J-Bucks" to motivate and reward students, raised $6,559, said Kit Harris and Lin Irey, two of its organizers. The money will be used to help Johansen with the expense of experimental stem-cell treatment offered in Denver, Colo., which has shown promise in helping check the progress of ALS.
It was not the only fundraiser undertaken for Johansen. Two friends, Rhonda Schulte and Carol Souders, organized an Internet campaign, which realized the goal of raising $5,000 so that Johansen could go on a trip to Europe.
That trip, which is to start Aug. 20, was the other thing occupying Johansen's thoughts on Saturday. She was especially excited about a planned visit to Amsterdam, the setting of "Dairy of Anne Frank," a work she frequently used in her classrooms.
Schulte, who with her husband, Ed Schulte, will travel with Johansen, said one goal of the trip was to help preoccupy her friend when she doesn't return to the job she loved with the start of school.
"It was difficult for me and it was my choice to retired, so I can imagine what it will be like for her," said Schulte, who taught with Johansen for 11 years at BJHS. "The timing is really good because she'll be doing something really nice when everybody is back in class."
Schulte said she helped Johansen plan the trip last spring. The Schultes and Johansen will fly to Copenhagen, Denmark, rent a car for roundtrip to Amsterdam before returning to Denmark for a 9-day cruise of the Baltic Sea, which will include stops in Estonia, Russia, Finland and Sweden, the homeland of Johansen's Scandinavian ancestors.
"My husband is in home health, so he has a lot of experience in how to move people about carefully," Schulte said. "We'll be taking a wheelchair so she won't get to tired. He'll take good care of her."
The trip added an unexpected and noteworthy stop in recent weeks when one of Roberson's jewelry pieces was selected for a show in Holland.
"It's on the exhibit's brochure," Schulte said. "It's about an hour south of Amsterdam, so we'll go see that."
Schulte said she was pleased but not surprised with the success of the two fundraisers. Fellow teachers respected Johansen as someone who would take on sponsorships and get involved in student motivational activities, while students and parents knew her as someone who "went above and beyond."
"She would always show up at sporting events," Schulte said. "She would tutor after school for them. She was always included things to make her classes exciting. Parents loved her because she was fair and positive."
Schulte said the community should keep Johansen in mind during the coming months as she pursues the stem-cell treatment.
"She's going to have ups and downs," she said. "If people send her a card or a word of encouragement it would help to keep her positive."
Irey said donations for Johansen's stem-cell treatment can still be made through the Facebook page Give Back the Bucks — Run for Kathy.