Baker mourns death of longtime coach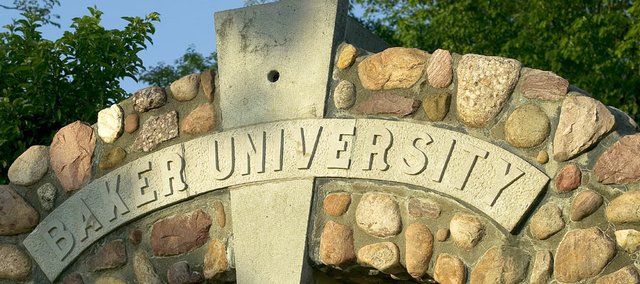 Baker University is mourning the loss of its longtime men's and women's cross country coach and track and field coach Zach Kindler, who died suddenly Monday night after a medical emergency.
"We are absolutely devastated by the loss of Zach Kindler," Baker University director of athletics Theresa Yetmar said. "He has been a longtime member of our Baker family, and one of the most decorated coaches in the history of our programs. More importantly Zach was a great man, husband, father, coach and friend. We cannot say enough how much we will miss him. Our continued thoughts, prayers, love and support go out to Zach's wife, Sara, and their three children, Taylor, Carter, and Tessa and his entire family."
KevinHopkins, minister to Baker University, will lead a prayer service at 11 a.m., Wednesday, Aug. 6, at Osborne Chapel. The public is welcome.
Kindler's program reached unprecedented heights in 2012-13 with a HAAC championship in men's cross country, men's indoor track and field, women's indoor track and field, men's outdoor track and field and women's outdoor track and field. Overall for his career, he captured 17 team conference championships and was named conference coach of the year 20 times.
His men's cross country squad took 10th in the NAIA Men's Cross Country National Championship meet in Vancouver, Wash., and his women's team took three runners to compete in the national meet.
During the indoor season, Baker posted five NAIA All-Americans at the National Championship meet in Geneva, Ohio.
In the spring of 2013, Baker finished sixth at the NAIA Women's Outdoor Track and Field meet and the men's squad took 11th nationally at the meet. Baker posted 13 NAIA All-Americans at the NAIA Outdoor National championship meet in Marian, Ind.
Under Kindler's leadership, Jeremy Gathright won the men's 400 national championship in a time of 46.62, marking the second national champion in Kindler's time as head coach at Baker. The other national champion came in 2012, when Stephanie Nelson won the women's javelin.
In the 2013-14 season, Baker captured the 2013 HAAC Women's Cross Country Championship and advanced to the NAIA National Tournament at Rim Rock Farm in Lawrence, Kan., finishing 17th at the national meet.
In the 2014 indoor season, the Wildcats captured two more HAAC team titles in Lamoni, Iowa, and qualified nine student-athletes for the NAIA Indoor Track and Field National Championships in Geneva, Ohio.
The 2014 Outdoor season brought even more success for the program, including a 2014 HAAC Outdoor Track and Field Championship for both the men's and women's programs and BU took 22 athletes to the national meet. The Wildcat women's team finished the national meet in 20th place and posted five All-America honors.
The Esbon, Kan., native came to Baldwin City after serving three years (2004-2007) at Kansas Wesleyan University in the same position. Previous to Kansas Wesleyan, Kindler served as an assistant coach at Fort Hays State University. As a student-athlete he achieved All-American status four times and Academic All-America status twice while bringing home a national title in the javelin for the Tigers. Kindler graduated with an undergraduate degree in sports management in 2001 and a master's degree in sports administration in 2003.
Kindler is survived by his wife, Sara, and three children, Taylor, Tessa and Carter.
"The Kindlers will always be cherished members of our Baker family," Yetmar said.