Marble Day events set to take over Downtown Bonner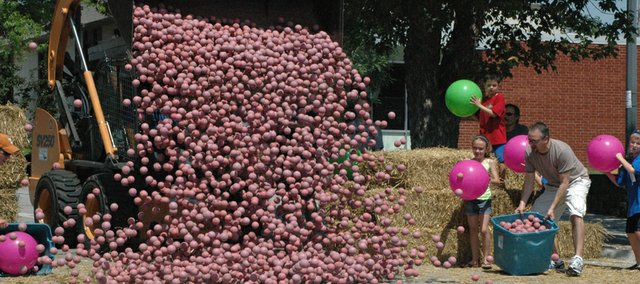 With a few additional events and participating groups, all the 8th Annual Marble Day needed was a good weather forecast.
As a clear day and highs in the low 70s are predicted Saturday, Bruce Breslow of Bonner Springs' Moon Marble Co. says the event should have everything it needs to go off without a hitch, thanks to the many who helped with organizing this year's event.
"I feel like we have a lot more help this year than we have in the past, which is nice," Breslow said. "We have a lot more organizations getting involved."
In addition to the usual Wacky Parade, old-fashioned games, marble contest and Running of the Pinkys, the Ag Hall Tractor Cruise and Bike Rodeo, events that made their debut last year, are returning. And new this year, events will kick off in the morning with the Funny Farmer Family 5K Run, and the Bonner Springs Arts Alliance will have a 4-foot-wide, paper mache "marble" that attendees can help decorate.
Breslow said organizers already have more participants preregisterd for the marble art and inventions contest and for the marble shooting contest than usual.
He said organizers hope to have a smooth start to the Running of the Pinkys this year, as well. Last year, in addition to cold and wet weather, one setback was using the city's new dump truck to dump the bouncy balls down Oak Street — it couldn't quite tilt enough in the first few attempts for the Pinkies to fall out.
"What was fun about that is we got to countdown about five times," Breslow joked.
Pinky balls can be "sponsored" for $2 each, which prizes awarded to the winning sponsors, until their release at noon. Funds raised from the Running of the Pinkys this year will go to Feed His Lambs.
The following is a full list of Marble Day events. Unless otherwise listed, events will take place in Centennial Park.
• 8 a.m.: Marble Day 5K Run, Oak Street and Nettleton
• 9:30 a.m. – 10:15 a.m.: Ag Hall Tractor Cruise and Wacky Parade, Oak Street
• 10:15 a.m.: Opening Ceremony, Centennial Park
• 10:30 a.m. – noon: Moon Marble Co. Marble Tournament, Centennial Park
• 10:30 a.m. – 2 p.m.: Marble Activities and Old-fashioned Games, Centennial Park and Oak Street
• 10:30 a.m. – 2 p.m.: Bike Rodeo sponsored by Bonner Springs United Methodist Church, Centennial Park parking lot
• Noon: Running of the Pinkys, Oak Street
• 1 p.m.: Announcement of Pinky Ball Winners, Centennial Park
• 1:15 p.m.: Cake Walk, Centennial Park