Longtime Baker band director busy as he nears retirement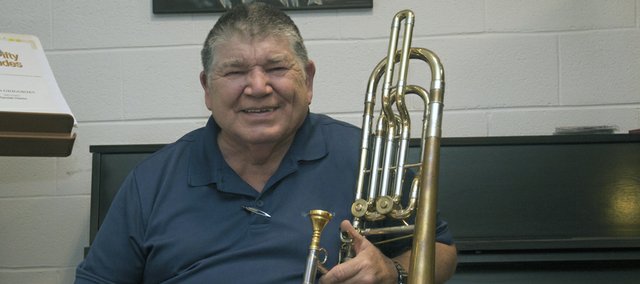 As Baker University band director, Ray James can't go out quietly.
The end of the semester is always a busy time for the school's music department, and this year is no different. There's a concert every day this week as James prepares to retire from Baker after 17 years. The musical week will culminate with a Symphonic Winds Guest Art Concert at 3:30 p.m. Sunday at Rice Auditorium. The concert will feature guest artists DkIT, a folk music ensemble from Dundalk Institute of Technology in Ireland, which James has visited on several occasions
His career started 48 years ago as high school band director at Winter Park, Fla. It took a different turn when James went to Wichita State University for his master's degree and the Alabama native said he "fell in love with Kansas."
After graduating, James had two stints as band director at both Hutchison and Buhler high schools, sandwiched around time in Oklahoma and California.
His wife, Jayne, brought him to northeast Kansas when she took a job as the state's technology director after receiving her master's from Kansas State University. The couple first moved to Lawrence before James found a position at Baker. It was a school James had heard was an overlooked jewel.
"While I was at Buhler, I had a grandmother tell me after she visited here that Baker was the best-kept secret in higher education," he said. "I think there's something to that."
James' youngest son, Morgan, will graduate this May from Baker. His third child, Saunder, also graduated from Baker and is now doing well with Cerner Corp.
James started at Baker as an adjunct professor in January 1988, was appointed interim band director the next year and then named a full tenure-track professor and band director a year after that.
His aim throughout his career was to follow those who mentored him by helping develop young teachers and sharing his musical knowledge with young and old, James said.
To advance those goals at Baker, James started jazz and marching band festivals and a high school honors band. All were designed to give young musicians a chance to learn and perform while increasing their awareness of the school and its musical department.
The jazz festival was scheduled to be the earliest of those area colleges offered, which helped attendance, James said. The marching band festival made an invitational event so that the state's smaller schools could participate without being intimidated by large 6A bands, he said.
He and his wife plan to remain in Baldwin City and the old home they renovated. It's a great place to live, offering the chance to attend Baker cultural events and easy access to the amenities of Lawrence and Kansas City, James said.
Retirement doesn't mean he plans to stop working.
"I love being on the podium," he said. "I hope I don't miss it too much because I hope some of my former students will invite to me their schools to help teach their students and prepare them for festivals."
He will also continue to work on an I-book on jazz and is doing interviews for another work on jazz history.
James is also considering another attempt at starting a Baldwin City community band, like the one he started while in California.
"I tried to start a community band about 10 years ago," he said. "It didn't really take hold. We had five or six members plus Baker students. I don't think the timing was right. I might give that another shot."