Face to Face: Baldwin City codes and zoning administrator Tina Rakes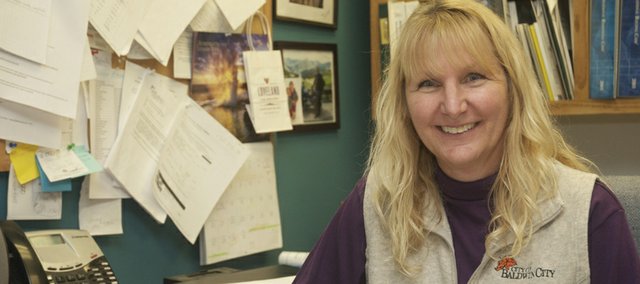 Name: Tina Rakes
Born: Dodge City, but grew up on a farm near Cimarron

Family: Three adult daughters and grandsons
Education: Graduated from Cimarron High School and attended Dodge City Community College. Professional certifications in building trades.
Ideal job growing up: "I wanted to be a veterinarian. I spent many, many summers helping my uncle at his veterinarian clinic in Colorado Springs." Rakes said her uncle was a friend of an owner of a large pet store chain and cared for all of the chains animals. "That's how I got my first ferret. I absolutely think ferrets are great pets."
Hobbies: "My therapy hobby is working in the yard. I really enjoy planting flowers. Last year and this year, I started planting vegetables for my own personal consumption. I grew up playing golf all the time. As I've entered the workforce, I don't have the time or revenue to play much golf. I enjoy outdoor activities. My grandsons have become a hobby."
Occupation: Baldwin City zoning and codes administrator. Rakes said her veterinarian career path was derailed when a friend of the family offered her a job in construction. She learned a lot working for the homebuilder, who did all phases of construction from concrete to finish. In 1988, she got a job in Dodge City's building and zoning department.
Digging deeper: Rakes said a daughter going to a cosmology school in Topeka first alerted her to Baldwin City. Her daughter had a classmate from Baldwin City and after visiting told her: "'Baldwin City is the coolest town. You have to come and visit." Soon after that, Rake's predecessor took early retirement. "I made application, was fortunate enough to interview and got the job. I've always wanted to live and work in a small town close enough to a large city to enjoy the amenities they offer. It's been a dream come true for me for 10½ years."