Baldwin district exploring opening soccer fields to football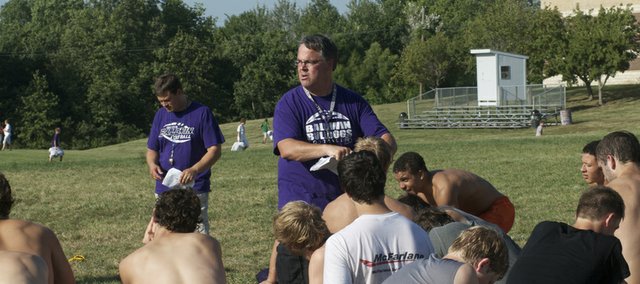 In response to a parent's request, the Baldwin school district will explore expanding uses of the soccer field north of the high school.
The soccer field and an eight-lane track surrounding it were among the projects financed through the bond referendum district voters approved in 2008. The field is now used solely for high school boys and girls soccer.
Joanne Kite asked the board on April 21 to allow junior high, freshman and high school junior varsity teams to use the soccer field.
The Baldwin district has no stadium because of its long-standing agreement to play varsity home football games at Baker University's Liston Stadium. That requires the junior high, freshman and JV teams to play at the Merle Venable Sports Complex west of the high school. Kite said the field was basically a practice facility with only one small bleacher, no concessions and portable restrooms.
The district loses revenue because of the lack of concessions and the inability to effectively charge admissions, Kite said.
The field was far inferior to the stadiums available to non-high school varsity teams at the other six Frontier League schools, Kite said. Some of those schools, such as Eudora and Spring Hill, have multiple stadiums as newer facilities were added with new high schools, she said.
Using the soccer fields for football would help close the gap by making available restrooms, a possible concession stand and more seating, Kite said. Its use as a football field was promised during the campaign leading up to the bond referendum's approval in November 2008, she said.
Kite said she was told the reason the soccer field wasn't available for football games was it lacked goalposts, which can cost from$1,000 to $4,000. Although football parents could probably raise that money, she called the Kansas City Chiefs about acquiring a used pair from the NFL team, Kite said. She was told the team had some available and would soon replace its existing goalposts, which it would make available at little or no cost, she said.
Superintendent Paul Dorathy said the language on the 2008 bond referendum ballot said bond funds would be used to build a soccer field and practice track for the district's track and field teams. However, he said supporters mentioned the soccer field's use for football in the campaign to build support for the bond issue.
The board has agreed to have Gary Stevanus, district activities director, explore expanding the soccer field's uses, Dorathy said. The difficulty would be scheduling.
Kite told the board the long-term solution to such a problem would be for the district to finally build its own stadium. The district entered into its agreement with Baker at a time that stadium offered facilities much nicer than those of other league schools. That is no longer the case, she said.