Baldwin High School looking for new boys basketball coach with Leochner's resignation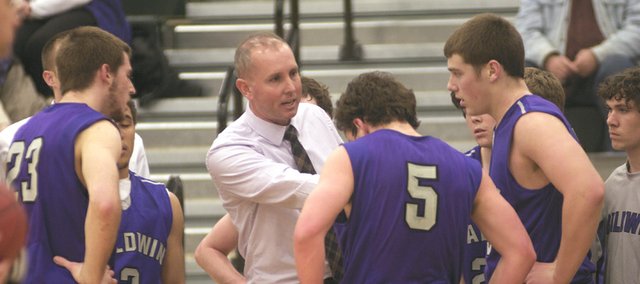 Baldwin High School is looking for a new boys basketball coach with the resignation of Dustin Leochner earlier this month.
His resignation was among the changes listed in the personnel report the Baldwin school board approved Monday. Other moves of note were the retirement of Baldwin Elementary School Intermediate Center teacher Catherine Maxon, and the resignation of district food service Director Julie Henry and the hiring of Martha Marie Powell to fill that position.
Leochner was head coach of the Bulldog program for three years. In his third year, the Bulldogs went 18-4 and were Frontier League champions. The team fell just short of qualifying for the state tournament, losing to eventual state 4A Division I runner-up Topeka-Hayden, 42-41, in the sub-state finals.
Leochner said the difficult decision to resign was based on the strain of teaching in the Lawrence district while coaching in Baldwin. He took the coaching job with the hope a teaching position would become available in the Baldwin district.
"Unfortunately, this has not happened and it doesn't appear it will happen anytime soon," he said. "Teaching in one town and being a head coach in another is a difficult situation to manage and has become exceedingly so as my family and professional obligations have grown."
Leochner said he also was uncomfortable with only seeing his players in a basketball setting. That was brought home with the sudden end of his relationships with this year's players after the tough sub-state loss, he said.
Baldwin High School Activities Director Gary Stevanus said he respected Leochner's decision. He will have a recommendation on the next BHS boys head coach for the board at its May 19 meeting, he said.
Other certified staff moves the board approved were:
• Kathryn Williamson, school psychologist, resignation
• Gregory Nilges, driver's ed teacher, hired
• Joni Jones, assistant BHS girls basketball coach, resignation
• Autumn Weiss, BHS counselor, hired
• Adum Guss, assistant BHS baseball coach, resignation
• Kathy Minden, Baldwin Elementary School Primary Center teacher, non-renewal
• Ashley Strand, Baldwin Elementary School Primary Center teacher, leave of absence.