Bulldog junior chasing friend's Baldwin High School records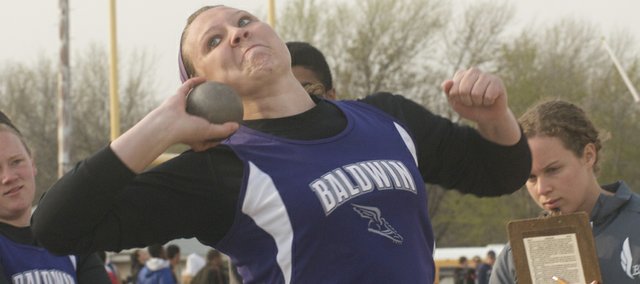 The day before the start of the KU Relays, Baldwin High's Alexia Stein was ready for the warmer weather and competition she expected to see in Lawrence.
To that point, the Bulldog junior hadn't seen much of either. Stein collected gold in the shot put and discus in her first three meets. That success included first-place finishes against stepped-up competition at the Pre-State Classic in Wichita and the Baker Relays.
Stein was fully aware the Friday and Saturday KU relays would draw another level of throwers, a prospect she welcomed.
"I'm ready for the competition," she said. "I think that will push me."
Stein's run of gold medal performances ended at Lawrence. She finished third in the shot with a throw of 42 feet, 5.5 inches and sixth in the discus. Finishing ahead of Stein in the shot were athletes from Omaha, Neb., and St. Louis schools. The discus also drew that kind of competition, but Stein didn't have her best day in that event. Fouls wiped out three of her attempts in the latter event and her best throw of 133-06 was well short of her best effort of the year of 140 feet at Wichita.
That throw, which is the best in the state in all classes this spring, was her Stein's personal record and came at the warmest competition day of the year.
Her goal this year is to throw 45 feet in the shot and 145 feet in the discus. That would put her within inches of Katie Kehl's school shot put records of 45-4 and 145-2 in the discus.
Stein said she planned to break both marks this year but not because she has a grudge against the two-time 4A discus champion and last spring's 4A shot gold medalist now throwing the discus for the Oklahoma State University track team. To the contrary, the two are good friends and support each other.
"She texts me all the time," Stein said. "She tells me to keep going."
Katie's younger sister, sophomore Kelsey Kehl, is also a close friend. Kelsey competes in the discus and shot but is excelling in the javelin. The sisters' father, Kris Kehl, is also important to Stein.
"I have two main coaches," she said. "Coach (Frank) Perbeck is our at-school throw coach. Coach Kehl is my meet coach. He helps me a lot. He's very good a seeing things with my motion."
Stein has improved her discus PR by 11 feet this year and her shot put best by two feet. That improvement, her early domination and her presence at USA Track and Field summer meets have made her a star at meets. The spotlight that was on Katie Kehl last year, is now on her.
"I'm noticed a lot more," she said. "I like it. It's good to be the one."
Her success has also caught the attention of college coaches.
"I've heard from a lot of schools," Stein said. "There are four I'm looking at most -- Kansas State, KU, Oklahoma State and Nebraska. I'm not really in a hurry. I have time to figure that out."
Her immediate focus is helping the Baldwin girls defend their 4A title. Stein is aware of the competition. Her biggest rival is Kelsey Slawson of Paola, who finished third spots ahead of her at KU.

"I keep my eye on her," Stein said. "If I throw my best, I'll do OK."