Baldwin school board passes on opportunity to increase local option budget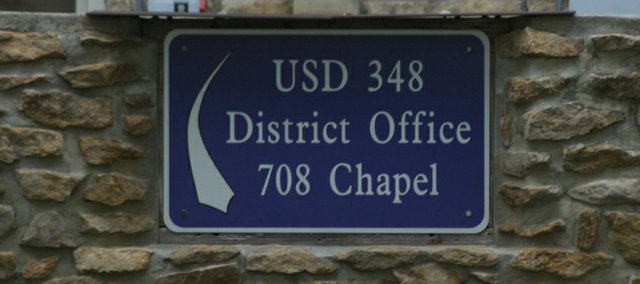 Although it is facing a tight 2014-2015 budget that will likely reduce the number of teachers in the district while increasing class sizes, the Baldwin school board passed Monday on a possible opportunity to secure more revenue from its local option budget.
Superintendent Paul Dorathy and district director of financial operations Cynde Frick updated the board of the new school finance legislation Gov. Sam Brownback signed Monday. It will provide the district with a net gain of about $30,000 in general operating fund revenue, some state aid to reduce the tax burden of local business and homeowners and additional state dollars for the district's capital outlay fund.
The bill also allows local districts to increase their local option budgets, so-called LOBs, from 30 percent of their total general fund revenue to 31 percent. The added 1 percent of revenue would be raised from a local property tax levy. However, that increase must be approved by voters in a districtwide referendum.
Frick said some Kansas districts were taking that step with the knowledge the new bill would allow their boards to then raise LOBs to 32 or 33 percent of the general fund in subsequent years with just a board vote.
Informed that they had to make a decision Monday if they wanted to put a measure increasing the LOB for the 2014-2015 year before voters, board members quickly said their preference was to leave the LOB at its current level.
Before that decision, Dorathy said he was only informing the board of its options. After board members rejected the option, he said he thought the board made the right call, especially in light of the taxes the district levies to pay off its bonded debt for new schools and facilities.
"I would think that would be a difficult election," Dorathy said. "I would say until we pay off some of our bonds, we should stay where we are at."
In five years, the annual mill levy needed to pay down bond debt would decrease to the point that a LOB increase could win voter approval, Frick said.
On another 2014-2015 fiscal issue, the board voted to raise the price of school breakfasts and lunches 10 cents per meal for students. With the increase, all students not eligible for free or reduced lunches will pay $1.55 per breakfast. Pre-kindergarten through fifth-graders will pay $2.40 for lunch, and students in the six grade or older will pay $2.65 for a meal.
The board left unchanged current fees for textbooks, band and full-day kindergarten.