Baldwin board asked not to judge textbooks by worn covers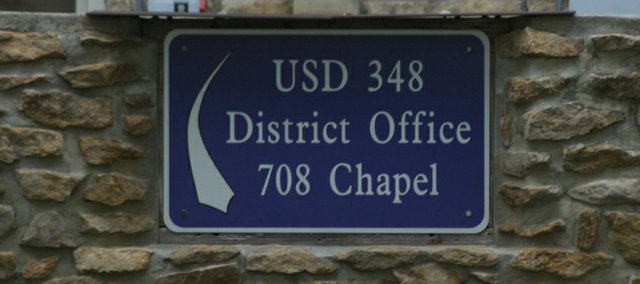 The normally routine matter of Baldwin board members approving classroom materials district faculty recommends for their curriculum hit a snag Monday when two board members questioned the well-used appearance of textbooks proposed for use in high-level math and science classes.
The dog-eared books for college level geometry, algebra and an advance science class were in stark contrast to the bright and shiny new textbooks recommended for junior high and lower-level high school classes. So much was the appearance of the old textbooks out of place that two board members, Sheryl Gill and Sandy Chapman, questioned their continued use.
In so many words, Baldwin High School Principal Rob McKim and Baldwin High School math teacher Mike Curran replied the textbooks shouldn't be judged by their covers or general appearance. What made the up to 30-year-old textbooks special and earned them a place on the recommended materials list was their content, they said.
Math textbooks were "dumbed down" in the 1990s and their content made easier so that they could be used for a wider range of students, Curran said. There are currently no textbooks available with content rigorous enough to challenge the top 10 percent of students taking advance placement or college-level courses at the high school, he said.
Textbook companies acknowledge that, even as they continue to print less demanding textbooks, Curran and McKim said. Meanwhile, the older textbooks recommended are much in demand and can only be found on the Internet one or two at a time, they said.
Nonetheless, Gill wondered whether the textbooks were of current "presentation" standards. Chapman said she shared Gill's concern and also wondered what she should tell parents questioning the age and condition of district textbooks their children brought home.
In response, Curran said he regularly told parents of advanced students that the textbooks were the same they used and were still used because of their challenging content. The book's value was reflected in the district's assessment scores, he said.
Although board member Ivan Huntoon said the math in the textbooks was still current despite their dated appearance, Curran and McKim were instructed to survey how Lawrence, Eudora and other successful districts handled the problem and report their findings to the board in May. The recommended junior high school and lower-level high school materials were approved.
Even as they defended the use of the textbooks, Curran and McKim said the district was probably moving toward producing and copyrighting its own material for the advance classes. In her comments, Chapman said she would like to see planning start on how that would be done.
In other business, the board:
• Agreed to allow a Baldwin High School student to take a college algebra class at Baker University despite an unwritten policy that requires students to take college courses at the high school if they are offered there. McKim explained the student could take the course free through Baker because the student's parents worked for the school. Taking the BHS class through Johnson County Community College would cost the student $300. It was agreed other such requests would be handled on a case-by-case basis.
• Heard an appeal from Baldwin Junior High School secretary Patty Irick and Intermediate School secretary Glenda Rockers that the district amend its sick day/personal day policy for classified employees to a discretionary day system. The two secretaries said there was wide support for the change among classified employees after it was presented to them at a March meeting.
The district certified staff and those in the education cooperative already use a discretionary day system, Superintendent Paul Dorathy said. He didn't know why it wasn't extended to classified staff and said it would probably make payroll and scheduling easier for the district. He asked that the board allow him and district financial operations director Cynde Frick to review the policy change before making a recommendation at the May board meeting.