Baldwin girls have tough week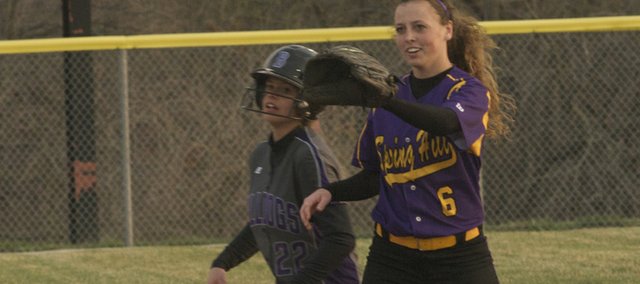 The Baldwin High softball team went 0-4 on the week, dropping doubleheaders Wellsville and Spring Hill.
On Tuesday, the Bulldogs lost both games of a home twin bill to Frontier League foe Wellsville, 6-2 and 8-4.
Baldwin coach Chad Scoby said the Bulldogs competed hard but didn't create opportunities by putting offensive pressure on Spring Hill.
"We struggled at the plate last night and a lot of that had to do with Spring Hill's pitchers," he said. "They did a nice job keeping us off balance and we didn't hit very many hard balls. Our defense was good, but we had an inning each game where a couple of errors extended their at bat and lead to some unearned runs."
Freshman Kinley Burton again pitched both games for Baldwin. Her sister, junior pitcher Kassadie Burton, is expected to be back from an injury next week, Scoby said.
The club had a tough day at the plate and in the field Thursday in losing both games of to Wellsville.
The Bulldogs lost the first game, 3-2, in eight innings and fell in the nightcap 8-3. Freshman Kinley Burton went the distance on the mound in both games, pitching 7 1/3 strong innings in the first gave before giving up a double in front of a run-scoring walk-off single. She gave up no earned runs in the first game until the eighth and all eight runs in the second game were unearned.
Baldwin tied the second game in the fourth inning with Emily Simpson brought home a run with a triple and then scored on a fielder's choice. The Bulldog forged ahead in the top of the fifth when Sierra Hall led off with a single and scored on an Eagle fielding error.
Wellsville quickly regained the advantage with four runs in the bottom of the fifth and added two insurance runs in the sixth.
Baldwin got off to a quick start in the opener thanks to a home run from Kylee Bremer. Aislyn Meyer's fourth-inning single would drive in Haley Cope, who had singled earlier, for the only other Bulldog run of the game.