Baker junior receives scholarship from National Federation of the Blind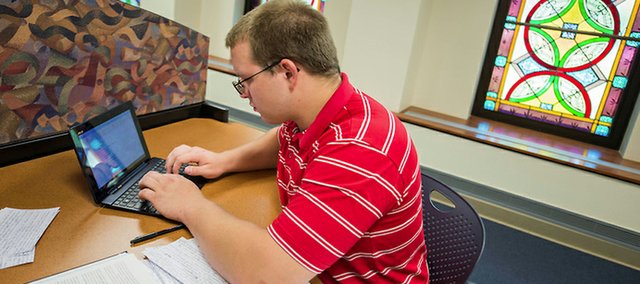 Dustin Turner, a Baker University junior from Overbrook, has been awarded a scholarship from the National Federation of the Blind based on his performance in the classroom, an essay competition and campus activities.
Turner is on the dean's list and a member of Baker's wrestling team. He serves as a resident assistant and is a peer tutor for Student Academic Services. Turner also has volunteered for the Numana Swipe Out Hunger event on campus and at The Big Event, an annual national one-day community service project.
"I am really glad that my work had finally paid off in a big way," said Turner, majoring in business management and computer science. "For me it is all about staying positive and focusing on what I can do rather than the things that I can't. Spending time focusing on things I cannot do leaves me feeling helpless and defeated. I work much better staying positive and doing the best I can. Everything else will take care of itself.
"My Baker experience has been great. The small campus, friendly students, and helpful staff and faculty have made it easy for me to work at my best even if I have to do things a little bit differently than others. Baker started to feel like a family from the very beginning. I wouldn't trade my experience for anything."
Turner, who has 20/400 vision, suffers from congenital nystagumus, a condition that causes his eyes to shake rapidly and uncontrollably in the presence of light, causing blurred vision at distances as close, in his case, as 5 to 10 feet. The condition also causes frequent headaches and his eyes to be extremely light sensitive. Despite the vision impairment, the legally blind student has thrived in the classroom, on the wrestling mat and in student activities on the Baldwin City campus.
"At first it was about finding my limits and range of abilities," Turner said of adjusting to college life. "After that it was about talking to the instructors and figuring out ways to bridge any otherwise unfilled gaps between what was expected and what I could do. This is where Baker really shined for me because the instructors were so accepting and helpful with suggestions and possibilities. Once those two pieces came together it was about working as hard as I could to get the job done in the classroom or on the mat."
Technology is invaluable to the Baker student. He relies on magnifiers, audio recorders, laptops and tablets for taking notes and completing his assignments.
"These keep me from falling behind with lectures as well as keeping my notes, assignments, and other media in formats that can be easily manipulated to get larger fonts and screen readings," he said. "Without these tools I would fall well behind my classmates and spend all my time catching up instead of focusing on my work."
Turner enjoys being involved on campus as an RA and competing for the Wildcat wrestling team.
"Wrestling is a very demanding sport," he explained. "It requires a lot of hard work and sacrifice. It has also given me a smaller subset of the Baker family to belong to. I am closer to other wrestlers just because I see them more and talk to them more often. Wrestling gives me a great outlet for my work ethic as well as personal growth. Being an RA has been a phenomenal experience as well. It allows me the opportunity to interact with other students on a more personal level and help them to become successful and have a good college experience. It also gives me the chance to use my disability to connect with and understand others' points of view, and that has been crucial to my development as a student and as a person."