Baldwin sweeps Wellsville in baseball twin bill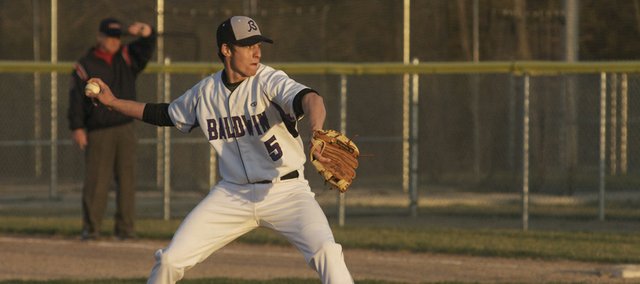 The Baldwin Bulldogs swept on Thursday a home doubleheader against Wellsville with a 4-1 win in the opener and recording a six inning 10-0 run-rule victory in the nightcap.
The sweep improved Baldwin's season record to 4-2 and came two days after the Bulldogs dropped a twin bill at Ottawa.
Baldwin coach Brian Turk said the difference from Tuesday was pitchers throwing strikes and the team making plays in the field. The Bulldogs didn't play to their potential at Ottawa, apparently rattled by playing the traditional Frontier League and 4A power, he said.
"We're not going to have a lot of pop at the plate," Turk said. "We're going to have to win with pitching and good defense. We had that today."
Although Wellsville is a 3A team, Turk said it was very good and would be competitive in the Frontier League.
Ben Growcock got the Bulldogs off to a good start on the mound against Wellsville, giving up no earned runs on four hits in five innings to get the win in the opener. Colton Stark struck out four Eagles in two scoreless innings in relief.
Baldwin scored all its runs in the first inning in the opener. Sophomore Collin Linden picked up two RBIs with his first-inning single.
The Bulldogs broke the second game open in the fourth inning when they plated four runs with two outs. Ben Brungardt and Brock Randels delivered the key hits with each driving in two runs with two-out hits.
Linder earned the win in Thursday's nightcap, giving up only two hits in four innings. Brandon Mock worked two perfect innings in relief, striking out four of the six batters he faced.
The Bulldogs will next play a home doubleheader against league foe Spring Hill. Action starts at 4:30 p.m.