Artist presents 'visual puzzles' in latest show at Baldwin City's Lumberyard Arts Center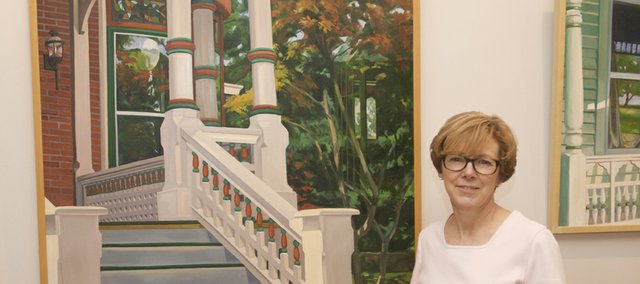 Although Colleen Z. Gregoire says she paints to get away from her day job as campaign director for United Way of Douglas County, she hopes the two pursuits have the same result.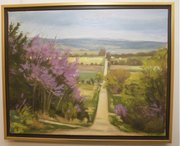 "This is my escape from the realities and life conditions I help address," she said. "I love what I do when at United Way, being able to help improve the quality of people's lives. Me personally, painting improves my life, and I hope it improves others who see my work."
Area art lovers can see Gregoire's work through May 10 at the Lumberyard Arts Center, 718 High St. There will be a reception for the artist from 6 to 8 p.m. Friday at the Lumberyard.
Many of the watercolors and oils Gregoire chose for the show have surreal, dream-like qualities from odd perspectives or use of reflections, or sometimes reflections of reflections.
"I really enjoy creating visual puzzles for my viewers," she said. "I leave my reflection out of it, so it can be difficult to find a frame of reference and whether you're looking from the inside or outside. It's a fun way of combining my love for landscape and architecture."
The result is art that takes the viewer time to fully grasp or appreciate all the variations in texture and light that fascinate Gregoire.
"I remember at one art show one woman came to my booth and said she couldn't figure out my paintings, and she was a little upset about it," Gregoire said. "I told her to think of them as abstract.
"I think just having something a little hard to explain can retain the viewer's interest longer."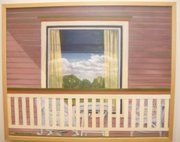 Gregoire said she usually paints from photographs or drawings, many of them taken from daily travels about Lawrence. Some of the paintings are a "mix and match" of those sources, she said.
"I'm always taking notes," she said. "I have endless stacks of photographs and sketches. I sometimes go back after a couple of years and think 'nows the time to put it in a composition.'"
The Oread neighborhood of Lawrence was the inspiration of one of the show's paintings, which Gregoire said is a view she noticed from the front porch of her Victorian home.
"That view is from the porch through five or six consecutive porches from down the street," she said. "The view encouraged me to see the welcoming aspect of the porches, as well as the spatial aspect."
An artist since childhood, Gregoire traces her interest in painting to the late Lawrence painter and Kansas University professor, Robert Sudlow, and a number of paintings that depict a country road tracing up and down hills to a distant vanishing point recall the works of her former teacher.
"I started as an illustration major," she said. "I got introduced to landscape painting when I took one of his classes. He loved the Flint Hills and took us on painting trips. I fell in love with painting. I threw practicality to the wind and changed my major to painting."