Education funding bill on governor's desk would mean net gain of $30,000 for Baldwin district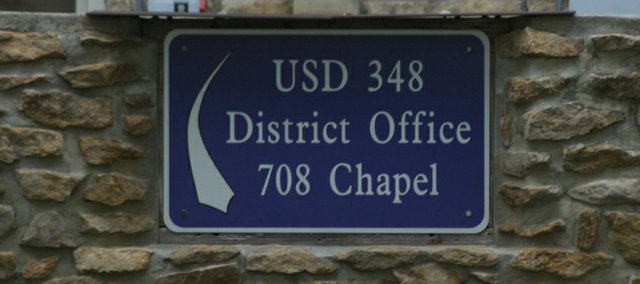 The Baldwin school district would see about $30,000 more in state general fund aid should Gov. Sam Brownback sign a school funding bill the Kansas Legislature passed earlier this week.
Baldwin USD 348 Superintendent Paul Dorathy said the bill took away some existing funding, added $14 in per pupil state aid to local districts and provided "equalization" revenue for poorer districts to help with their local option budgets and capital outlay funds.
The legislation was in response to a Kansas Supreme Court decision on education funding released last month. The court remanded to a three-judge lower court the big question of the adequate level of state education funding, but gave the Legislature until July 1 to replace $129 million in equalization funding for local option budgets, so-called LOBs, and capital improvement funds stripped from state budgets during the start of the recession. The state equalization payments are meant to assure district's with smaller tax bases have comparable revenue from those two sources as richer districts.
The state equalization revenue the legislation would make available to support the Baldwin district's LOB will give local taxpayers a break on property tax bills, Dorathy said. The equalization money the state adds to the capital outlay fund won't help with direct classroom needs, but would allow the district to do more maintenance projects, Dorathy said.
The net gain in general fund revenue of $30,000 does not cover the $33,600 annual salary of a first-year teacher nor change the district's overall 2014-2015 budget picture, Dorathy said. The school board would continue its search for cost-saving measures, which could include teacher and support staff reductions, he said. But the legislation could have been much worse had lawmakers followed through with a proposal to cut state aid to districts for transportation, he said.
The legislation also allows school districts to advance referendums to increase LOBs from 30 percent of their general funds to 33 percent. Dorathy said board members had no enthusiasm for taking that step when updated Monday on the legislation.
The option to raise the LOBs appeals to districts with large, diverse tax bases, in which the additional mill levy authority will pull in significant revenue with little burden on homeowners, Dorathy said.
Although hesitant to predict how courts might weigh the legislation, Dorathy said he thought the Legislature did an effective job of addressing the Supreme Court's concern about LOB and capital outlay equalization funding. He as less sure about the greater question of the level of adequate school funding and said the bill's new LOB option might not be viewed favorably by the three-judge panel because it would increase disparity among districts.
The bill on Brownback's desk also includes language that would eliminate teacher tenure with the stated goal of making it easier for districts to fire bad teachers. Dorathy said it would "be interesting" to see how that played out, but said tenure was offered teachers to prevent politics from being involved in such personnel decisions.
The district has three to five years after a teacher is hired to make a decision on the individual's retention, Dorathy said. Annual reviews track the teacher's performance throughout that time and once tenure is granted and are used when the district is required to go before a hearing officer to justify the firing of a tenured teacher, he said.