Bonner's Marble Day to expand with new 5K run, community art project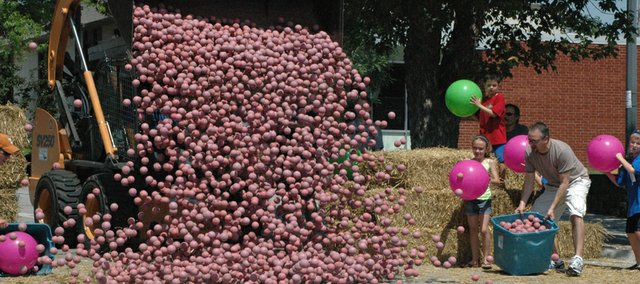 With a big, new event, a new organization involved, and hopefully better weather than last year's cold rain, things are going to be busy at the 8th Annual Marble Day celebration.
Marble Day is set from 8 a.m. to 2 p.m. May 3 in Downtown Bonner Springs. This year's celebration will feature the return of two events that were new last year — a bike rodeo and the addition of the Tractor Cruise to the opening "Wacky Parade" — and two new events: a 5K run and a community art project with the newly-formed Bonner Springs Arts Alliance.
The creatively-named Farmers Family Fun 5K Run will begin at 8 a.m. to kick off this year's celebration. David Block, Marble Day Committee member, said the event was added at the suggestion of two committee members who are also runners, and the name was inspired by the Agricultural Center and Hall of Fame's Tractor Cruise, which will once again swing through downtown Bonner Springs to lead the Wacky Parade.
"We already have a Wacky Parade, so we didn't want to go with a Wacky Run and get people confused," Block said. "The idea was if we had a theme, people could dress up, and we figured people could dress up in overalls and a straw hat or somehow dress as a farmer."
Block said the run will make use of both the roads and Bonner Springs' recreational trail, starting and ending at the McDanield Early Learning Center at Nettleton and Kump avenues.
Runners can participate for a $20 entry fee and will receive a T-shirt; three medals will be given for each category of runners. Registration forms are available at marbleday.com and can be turned in at the Bonner Springs branch of USBank, which is sponsoring the run, or at City Hall.
After the 5K, the usual old-fashioned games and fun events of Marble Day will begin, starting with the Wacky Parade on Oak Street, followed by bike rodeo, marble tournament, marble art and invention contest, Running of the Pinkys, cake walk, straw tunnel and straw mountain, food vendors and other traditional games and activities.
Another new event is sponsored by the Bonner Springs Arts Alliance, which plans to have attendees help make a community paper mache art sculpture.
Laura Burch, alliance spokesperson, said the group hopes to make the "Midwest's largest marble" made from paper mache, and the finished art may then travel to some different locations around the city before finding a home at Moon Marble Co. She said while everyone can decorate the marble, the alliance might ask area art teachers to help construct and decorate the bulk of the marble.
The group also will help run games in the tent in Centennial Park.
The recipient of this year's Running of the Pinky Balls fundraiser will be Feed His Lambs, the nonprofit organization that provides weekly meals to families in need in Bonner Springs-Edwardsville USD 204. As always, Pinky Ball sponsorships will be $2 each, available at various downtown businesses and Feed His Lambs volunteers in advance of Marble Day. Sponsorships also will be sold the day of the event.
Find a full list of times and events at marbleday.com and watch for updated information in future issues of The Chieftain.