Baldwin High School softball team sweeps Ottawa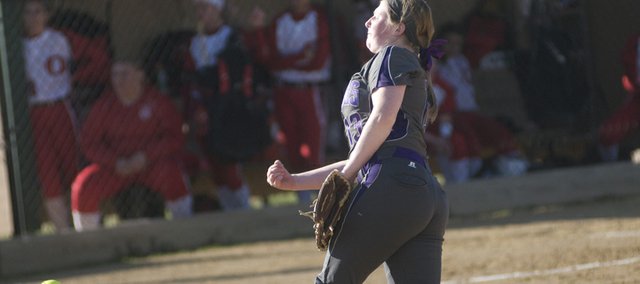 The Baldwin High School softball team got an outstanding performance Tuesday from freshman pitcher Kinley Burton in a double-header sweep of Ottawa.
The Bulldogs won the first game, 5-3, and the nightcap, 10-2, with Burton going the distance in both games.
"She pitched 14 strong innings," coach Chad Scoby said. "She did a great job. She gave up a few walks, but then she buckled down. I thought the defense was great behind her."
The team needed the strong outings from Burton in light of an injury to her older sister, the team's No. 1 pitcher junior Kassadie Burton. Scoby said the junior could miss a couple more weeks.
"She's got a lot her shoulders," he said of Kinley Burton. "I told her, 'You're the starting pitcher until your sister gets back.'"
Burton's freshman battery mate catcher Cori Thompson was the hero of the opener, plating the Bulldog's first two runs with a third-inning single to right field. The Bulldogs would add two runs in the fifth and another in the seventh, building a 5-1 lead.
Ottawa would rally in its last at bat, but the inning ended when an Ottawa runner attempted to score on a single to right field. Thompson blocked the plate, causing the Cyclone base runner to miss home plate and fall to the ground injured. With prompting from coaches, Thompson tagged the runner for the game's final out and preserve a 5-3 victory.
The second game had no such late-inning suspense. Baldwin took a 1-0 lead in its first at bat and made the lead hold up until Ottawa score two runs in the bottom of the third. The Bulldogs would take the lead back with nine runs in the top of the fourth. The key hit was sophomore Kyle Bremer's bases clearing triple off the glove the Ottawa center fielder.
"I was really happy with how we responded, because we got down, 2-1," Scoby said. "We just broke it open. That was nice. It was a nice one for the girls."
With the sweep, the Bulldogs improved to 2-0 in the Frontier League and 3-1 overall. The team will return to action at 4 p.m. Thursday at Wellsville before returning to league action Tuesday with a home double header against Spring Hill.