Baldwin City Garden Connection members behind summer's downtown blooms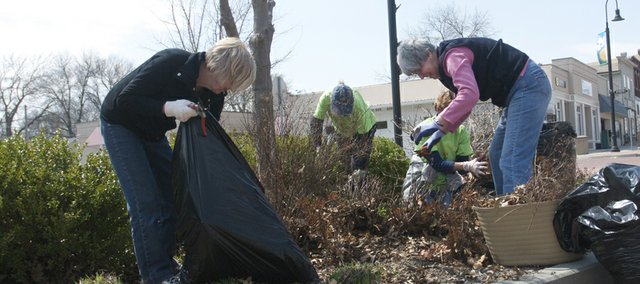 Baldwin City Garden Connection President Donna Masoner made a confession as she watched Monday as fellow member Carol Anderson raked out the flowerbed in front of the Baldwin City Community Library.
"Raking is my least favorite thing to do," she said.
That brought a laugh from three other members present — Jane Akob, Helen Graettinger and Anne Miller — who noted Masoner didn't bring a rake with her. It was a workday of raking and otherwise preparing flower beds with no brightly blooming flowers to provide instant gratification.
"That something you look forward to," Akob said. "It's not all glamour work."
The grunt work brought no complaints from the members, who were happy to be outside gardening after spending late winter days combing through seed catalogs and minding plants moved indoors for the season. Weeding, pruning, planting, fertilizing and otherwise minding the city's downtown flowerbeds and the one near the swimming pool is a once-a-week task Garden Connection members take on through the growing season, Masoner said.
"The city waters them, but we do the rest," she said. "It's all volunteer. We do it to help beautify the city. People drive by in the summer and thank us for what we're doing. We get a lot of compliments, especially about the hanging pots."
It's too early in the season for the city to place the hanging pots on downtown light poles or for Garden Connection members to plant flowers in them, Masoner said.
"We try to use Prairie Star (flowers) from the K-State Research Farm," she said. "They do well in Kansas."
That kind of information is shared at the Garden Connection's meetings, which are on the third Thursday of each month. Masoner said the meetings, which don't have a specific time or place, often feature experts in gardening and landscapes and tours of places like the Overland Park Arboretum.
"Our purpose is to promote and develop interest in gardening and provide educational opportunities," Masoner said. "We're open to everybody, from beginners to master gardeners. We had quite a few people new to Kansas who didn't know what to plant here."
The door also is open to gardeners who would like to help with the weekly community service efforts, Masoner said. Those interested in joining Garden Connections or the volunteer effort should cal Masoner at 785-594-3908.