Oboe's voice music to Baldwin High School senior's heart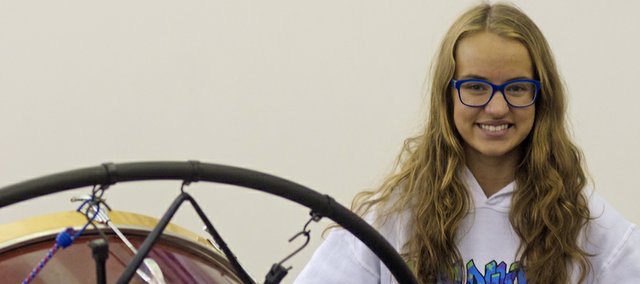 Baldwin High School senior Cassidy Markley loves the voice of her oboe.
"It's very unusual," she said. "I like the way it soars above everything else when you play in an orchestra or band. It definitely has a solo quality to it."
Markley, who last week signed a scholarship to attend Kansas University to play in the school's marching and concert bands, also credited the oboe with saving her instrumental musical career.
Although neither of her parents, Lori and Kevin Markley, played instruments, they wanted her and her sister, McKinley, to have that experience, Markley said. They enrolled them in piano lessons and encouraged them to join band.
Her mother also interceded when Markley's first woodwind choice didn't take.
"In fifth-grade band, I played clarinet," she said. "I started not liking it and wanted out. My mom researched different instruments and suggested the oboe. It was all good after that."
On Friday, Markley began the final chapter of her high school music career, when she and other BHS musicians attended a high school music festival in De Soto for solo and small ensembles.
Markley earned the best-possible rating of 1 last year in regional for her oboe solo and a 2 at state. Obviously, her goal this year is to get a 1 in both, but to do so Markley will have to conquer her emotions when playing her piece for the judge.
"I got really nervous the first time," she said. "I get more nervous than when I'm performing a solo at a school musical in front of 600 people. Now that I've done so many auditions, I can control my emotions, but I still shake."
Markley will play at festivals with a new confidence, gained from the improvement she's made in the last year following open-heart surgery to repair a hole in her heart. The condition was discovered at the start of her junior year when her mother signed her up for a heart stress clinic offered at Baldwin High School.
"I've noticed so much improvement," she said. "Before when I played a solo, I could barely make it through. I can play twice as long now with no trouble. I don't get light headed and don't have to stop and take a breath."
In addition to duration, the added oxygen has improved her range and concentration to details, Markley said.
In February, she earned a seat in the state honors orchestra as was the only member from a 4A or smaller school.
"It was wonderful," she said. "I loved how the oboe sounded with the strings. It was the best performance I've ever been in. The music was really different. It really pushed me."
The experience whetted her appetite for more once she starts next year at KU. Markley said the decision was right for her because it will keep her close to home, the KU music school is respected and "like a conservatory" within the university and it will allow her to continue her association with her current oboe coach, KU associate professor Margaret Marco.
She plans to study music education, Markley said, with the goal of one day leading a high school instrumental music department.
Baldwin High School band director Will Cooper said Markley's experience at the high school would aid her in that future career. She played clarinet and drums on many pieces without a role for the oboe and was the leader of the school's concert choir her senior year, he said.
"In a smaller school band, we need the flexibility she gives us," he said. "She probably wouldn't have had all those opportunities at a larger school. She's involved in so many things. It's served her well in giving her experience in things she will do down the road as a music teacher."