Baldwin City's Midland Railway to have Easter egg hunts the next 2 weekends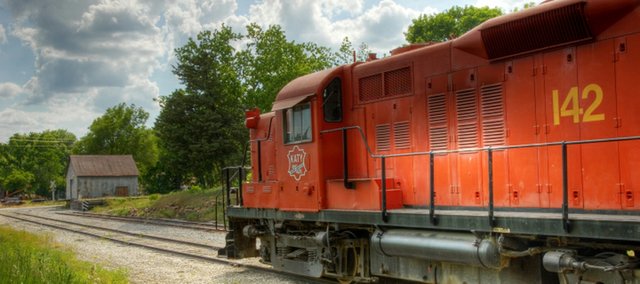 With Easter Sunday just around the corner, special Easter Egg Hunts are being planned the next two weeks on Midland Railway trains departing from Baldwin City Depot.
"Get your tickets online now," encouraged Midland Railway Conductor Allen Kinsley.
"The annual Midland Railway Easter Egg Hunt Train runs are scheduled April 12, 13 and 19, with departure from the Baldwin City Depot at 10 (a.m.), 1 (p.m.) and at 3:30 (p.m.) all three days."
The Midland Railway operates excursion trains from Baldwin City through Norwood to Ottawa Junction, traveling through scenic eastern Kansas farmland and woods via vintage railway equipment, Kinsley said.
"This Easter Egg Hunt Train is an 11-mile round trip with the Easter Bunny on the train. Passengers can hunt for more than 1,000 Easter eggs on each train, and yep, even visit with the Easter Bunny personally, as well as just sitting back, relaxing and enjoying the train trip," he said. "Oh, don't forget to check those eggs on the way back to Baldwin City. You just might have a prize winning egg in your hands."
Kinsley is the one would know because of his close connection with Mr. Bunny and colleagues.
Train enthusiasts are also reminded that the Kansas Bell Dinner Train is continuing to offer elegant rides reminiscent of 1940s cross country train travel, with special five-course suppers Friday and Saturday evenings, and a three-course dinner noon Sunday. Details about those schedules, times and menu options are available at 785-594-8505.
The Midland Railway is a completely volunteer-staffed non-profit 501c3, common carrier railroad operated to preserve and display transportation history as an educational demonstration railroad.
"Bring the whole family. We are in easy reach of Kansas City, Overland Park, Olathe, Ottawa and Lawrence, Topeka, and nearby communities," Kinsley said.
More information can be found at www.midlandrailway.org.