Baldwin City's Three Sisters Inn has new ownership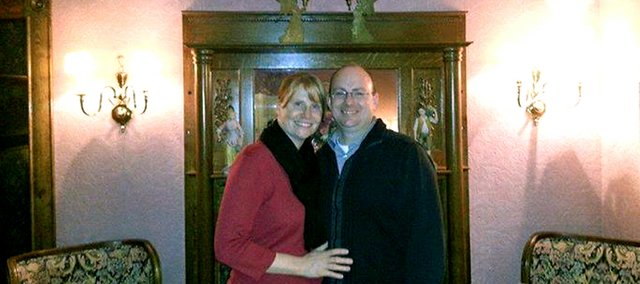 It seems fated that Mikel and Pamela Stoops would one day own Baldwin City's Three Sisters Inn.
The couple recently purchased the bed and breakfast at the corner of Ames and 11th streets from Shawna and Kevin Garber, but Mikel Stoops said he and his wife first considered buying the inn when Jim and Diane Niehoff still owned the Victorian bed and breakfast they remodeled after moving it five blocks from the east.
"I used to work with Kenny Niehoff at Bayer in Shawnee," Stoops said. "I was aware his aunt and uncle owned a bed and breakfast. When the Niefhoff's had it for sale, we thought about buying it but the timing wasn't right."
Stoops said the timing proved right when he noticed mention in a trade magazine that the Garbers would consider selling Three Sisters. The couple's son, Kevin, is now a freshman at Ottawa High School, recent upgrades to U.S. Highways 56 and 59 have made the inn more accessible, and Baldwin City continues to add destination tourism attractions.
At bottom, though, the bed and breakfast allows Stoops, who worked as a process control engineer, to follow his passion.
"I love to cook and entertain and share my food with other people," he said. "That's the allure to me — the cooking."
The couple are moving into the living quarters in the basement, but he has already gotten familiar with the kitchen and other aspects of the inn and its five guest rooms, Stoops said.
"It's got a commercial kitchen so I can do catering, which is great," he said. "Jim and Diane (Niehoff) did a great job remodeling this building. If I was going to start with an old building and remodel, this is what I would have done."
Another appeal of the business was Baldwin City and the opportunities it offered to keep the inn filled.
"I like the small-town feel, and I like the location of Baker University," he said. "That draws visiting university professors and parents of college students. That's the proper clientele for a bed and breakfast.
"We've had a lot of occupancy the last month from the Kansas Belle Dinner Train. We've had calls from people planning to attend the Midland Railway Easter egg hunt. Those types of draws to Baldwin City are great."
Stoops said the couple planned to contribute to that by being members of the Chamber of Commerce and the Baldwin City Tourism Council.