Baldwin High School track teams start season Friday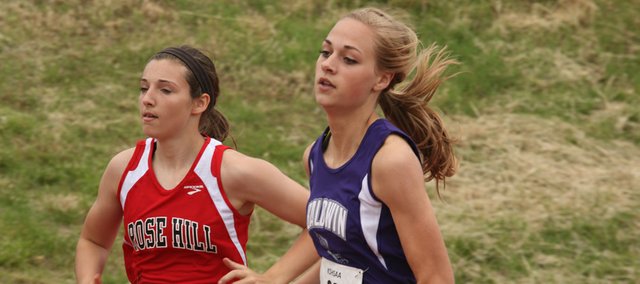 girls track coach, Ted Zuzzio acknowledges his team will be a contender to defend its 4A state title by winning its fourth championship in five years.
"A lot of medals walked out the door last year," said Zuzzio, who is retiring at the end of the school year. "But we have a lot coming back."
Gone from last year's team is the trio of Katie Kehl, Kaitlyn Barnes and Glenn Kelley McCabe, who led the Bulldogs to the state title with gold-medal finishes in discus, shot put (Kehl) and the 4x400 relay and other strong finishes on the track (Barnes and McCabe).
The most decorated returning team member is Morgan Lober, who won the 400-meter state title and ran a leg on the winning 4x400-meter team and silver-medal 4x800-meter team.
"We only have one member back from the mile relay," Zuzzio said. "But we have some strong younger girls. We'll be in the hunt."
Despite the graduation of Kehl and Jessie Katzer, fifth-place state finisher in the shot put, the Bulldogs return a strong throwing contingent with junior Alexia Stein, fourth-place state finisher in both the shot put and discus, sophomore Kelsey Kehl, sixth in the javelin, and junior Jordan Hoffman.
Distances could also be a strength with 800-meter state qualifiers and 4x1600 relay members senior Hannah Hutton and sophomore Fayth Peterson returning. Adding to the strength is Addie Dick, eighth-place finisher in the state 1,600 meters.
Other returning team members with state meet experience are junior Maddie Ogle in the 100-meter hurdles and sophomore Kyna Smith, a state qualifier in the 200 meters and member of the state 4x400 meter relay team.
With the cool spring, the team has been holding back in workouts to avoid injuries, and he couldn't identify any athletes who might surprise this season, Zuzzio said. A clearer picture will start to emerge Friday with the Baldwin Invitational at Baker's Liston Stadium, he said.
The boys team is also looking to start putting pieces together with the Friday meet, coach Mike Spielman said. The team returns nine athletes with state experience but lost 2012 state shot and discus champion and 2013 sliver medalist in both events, Dayton Valentine, to graduation.
Despite Valentine's departure, throwing events should be a team strength, Spielman said. Returning is Nebraska University football commitment Christian Gaylord, who was recently cleared by doctors to participate in the shot put after a shoulder surgery that forced him to sit out the basketball season. Also returning is Quinn Twombly, last year's regional champion in the javelin. State qualifier sophomore Jake Katzer also should vie for medals in the javelin.
The Bulldogs will field a deep and talented group of distance runners, as should be expected with the school's state title last fall in cross country. Senior Ethan Hartzell, a two-time state qualifier in the 3,200 meters, returns with junior Joe Pierce, a state qualifier in the 800 meters. Both ran legs in the school state qualifying 4x800 relay team with sophomores George Letner and Dakota Helm.
Three legs of the boys state qualifying 4x100 meter relay team return, providing strength in the sprints. They are senior Chad Berg and juniors Joel Halford and Darius Johnson.