Event Saturday in downtown Baldwin City to be preview of summer 2014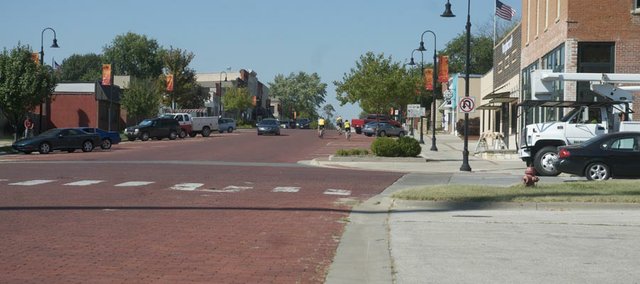 The city of Baldwin City, Mid-America Bank and the Baldwin City Economic Development Corporation will play host to a downtown event Saturday featuring a free barbecue, a beer garden and a performance by the band Sellout.
The first 500 people will receive a free meal catered by Antonucci's Italian Restaurant and Sandbar Subs in Lawrence. Proceeds from the beer garden will go toward the Lumberyard Arts Center. The barbecue starts at 6:30 p.m. and Sellout, playing between the 600 and 700 blocks of High Street, will begin at 8 p.m. A bounce house will be available for kids.
"What we like to do is try to show off our downtown, because it is beautiful and we also love our businesses down here, as we do on the highway. But we want to try and give those folks down here a little bit more foot traffic," City Administrator Chris Lowe said. "So, we'd like to just raise awareness of what businesses are downtown."
The event will serve as a preview for a new monthly summer feature planned for downtown next yeat, said Peach Madl, owner of The Lodge and member of the Baldwin City Tourism Council.
"This will be just the kickoff for all of us to get ready for our summer concert series," she said.
The summer concert series will take place on the last Saturday in June, July, August and September of next year. Madl said the purpose of the concert series is to create some synergy downtown by providing entertainment and raising awareness of the local businesses.
Sellout is a cover band from the Lawrence area whose members dress in character while performing.
It is the sponsorship from the city of Baldwin City, Mid-America Bank and the Economic Development Corporation that has helped make this event possible, said Dave Hill, director of the Baldwin City Economic Development Corporation.
"We've been working with some downtown business owners for the last four to five months," Hill said. "I can also say the city has been so supportive because they really want activities in downtown Baldwin."