Baldwin spikers continue dominance of Frontier League foes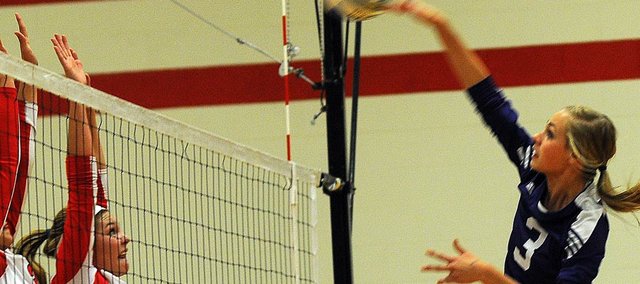 Ottawa — The Baldwin High School volleyball team played well enough Tuesday to dispatch Ottawa in three sets (25-21, 25-21, 25-23) to stay unscathed in Frontier League play, but not well enough to satisfy the coach.
"That was ugly," coach Jill Brown said. "We were lucky to get out of here with no (set) losses."
The Bulldogs didn't play to one of their biggest strengths, the coach said.
"We're normally a very good attacking team," she said. "I think we passed well enough. We didn't attack. It was several of them, not just one player."
One possible explanation Brown and senior defensive specialist Madeline McCrary suggested was rust. The team hadn't played since it defeated Paola for the third time this year in a four-set match a week earlier. The team had a very busy early season schedule with a couple of Thursday and Tuesday engagements wrapped around a Saturday tournament.
"It seemed like we were playing better when we played a lot," Brown said. "We were playing better then."
If her players like work, Brown promised to give it to them with a focused week of practice before traveling to Louisburg for a match next Tuesday.
"I told them to come to practice tomorrow ready to work," she said.
With Tuesday's victory, the Bulldogs are 15-3 on the season and 3-0 in Frontier League play.
The Bulldogs got a big road win a week earlier at Paola with a hard-fought, four-set victory (28-26, 28-26, 20-25, 25-19). Baldwin had already beaten Paola twice in the league tournament, and Brown expected a tough match.
The Bulldogs had to come from behind in the first two sets, overcoming 8-16 and 17-22 deficits to win.
Junior Alexia Stein was big at Paola with 22 kills out of 31 attempts and only five errors, Brown said. Jordan Hoffman had 20 kills and Morgan Lober seven. Corey Valentine had another big assist night with 53, and McCrary had 14 digs.
The Louisburg match would be a test for her team, Brown said. The two teams have yet to meet this season. Louisburg won its pool in the league tournament, but lost to Paola in the semi-finals.