Ticket leads to petition drive for crosswalk light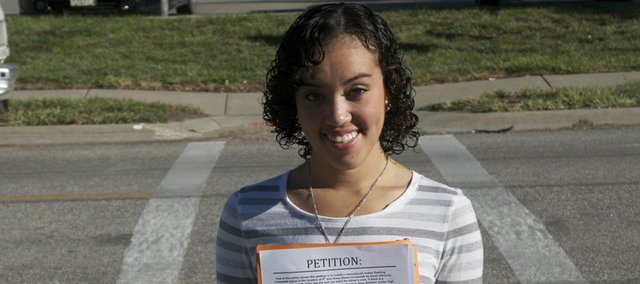 A driving citation she received two months ago has Shai Jackson walking.
Jackson didn't lose her driver's license from the ticket, but it did provide her with the incentive to correct what she sees as a dangerous problem. This past weekend and again early this week, the 18-year-old carried a petition door-to-door in Baldwin City to build support for her solution to the danger.
Jackson was ticketed about 7:30 on a July morning for failure to yield to a pedestrian at the crosswalk on U.S. Highway 56 at Fourth Street.
"I was driving east and was blinded by the sun," she said. "I couldn't see the young woman standing on the sidewalk waiting to cross the street. If I had seen her, I would have stopped. If there was a hazard light visible, I surely would have stopped."
She talked to her grandparents, Ray and Shirley Williams, and uncle, Scott Ikenberry, about the ticket and learned they all thought it was a dangerous pedestrian intersection. She decided a manual pedestrian stop light, like that on U.S. 56 at Eighth Street, is needed at the crosswalk, Jackson said.
"That crosswalk at Fourth Street is just two blocks south of the junior high school," she said. "Students cross there early in the morning when they go to the school to eat breakfast when the sun is coming up. That crosswalk qualifies for a light. There should be one there."
Jackson, who works part-time in the office of Lawrence attorney Kathy Perkins, said she decided to start a petition drive in support of the light after getting advice from her boss.
She's collected nearly 50 signatures so far and plans to get 150 before asking the Baldwin City Council to support the crossing light at the location.
"When I speak to the city council, I want them to know it's not just me standing up there, but 150 people are standing there with me in support of a light at that crosswalk," Jackson said.
The response as she's gone door-to-door has been encouraging, Jackson said.
"One elderly lady told me, 'I'm really glad you're doing this. Finally, someone is doing something to help the safety of this community and the children using that crosswalk.'"
Baldwin City Police Chief Greg Neis agreed a crossing light was needed at the crosswalk and said the city would like to see one there. But because the crosswalk is on U.S. 56, the Kansas Department of Transportation has the final authority of what kinds of traffic controls are placed on the street.
"The last time we asked, they didn't show any interest in installing a light at the crosswalk," he said.
Neis predicted Jackson would get the support of at least some city council members. But he said KDOT would probably remain reluctant to place a crossing light so close to the stop light at U.S. 56 and Eighth Street.
Jackson said she realized the decision would ultimately be KDOT's. But she said the city council's support and her petition were the first steps in approaching the agency for the change.
Jackson said she also will approach state Sen. Tom Holland and Rep. John Wilson about supporting the light,
.