Santa Fe Trail trek brings bicyclists to Baker campus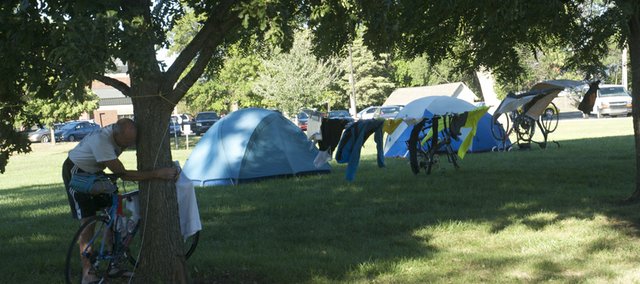 Tim Roth of Las Cruces, N.M., learned respect Monday for the wind and rolling hills of eastern Kansas.
Roth was one of 28 riders retracing 1,100 miles of the Santa Fe Trail from Santa Fe, N.M., to West Franklin, Mo. The riders reached Baldwin City on Monday after 15 days on the road and camped overnight on the Baker University campus.
Monday was a rare day when a rider in Kansas would battle a head wind going east.
"There was a good 20 to 30 mph wind," Roth said. "If you want to train for the mountains, riding into the wind on the rolling hills here would be a good place to do it."
He made the day more challenging when he ran into the U.S. Highway 56 bridge construction sign at U.S. 59 and took the Kansas Department of Transportation's suggested detour south to Ottawa. There, a resident told him of a shorter way to get to Baldwin than biking through Wellsville.
"I probably put on 90 miles today," he said.
But that was OK with Roth, who said one of the reasons he signed on for the ride that Willard Chilcott of Sante Fe has organized for 18 years was to test his endurance. His second motivation was his interest in history.
"I read 'Blood and Thunder' by Hampton Sides and Susan Magoffin's diary" he said. "It really sinks in when you can touch and see the buildings and sites they mention."
The riders took the northern Santa Fe Trail route, which took them over Raton Pass just south of Trinidad, Colo. Four riders left the trip at that point, said Gary Neumayer of West Lenox, Ill.
Neumayer also is enjoying the history of the trail. The ride has given him new respect for the Native Americans who lived on the prairie and the early traders who traveled the trail.
The trek ends Saturday in New Franklin, but Neumayer will ride on through St. Louis, Mo, and then to his northern Illinois home.
"It's a great way to see the country, meet new people, learn a little bit of history and stay fit," he said.