Baldwin City police officer back on the job after mission in Afghanistan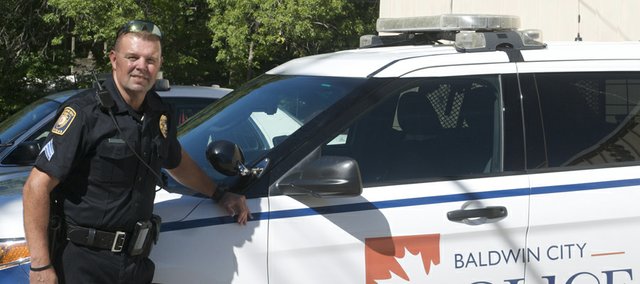 Gregg Schiffelbein was signing papers Monday to start work at the Baldwin City Police Department and getting acclimated.
The source of Sgt. Schiffelbein's acclimation wasn't the job. He's familiar with his duties from working for the department from 2004 to 2008 and again in 2011. It was getting used to living behind solid walls, sleeping in his own bed without being awoken in the early morning hours by combat jets and helicopters and having the freedom to run to the convenience store on a whim.
Schiffelbein returned Sept. 8 to Baldwin City from Afghanistan, where he spent the past year and a half working for a private contractor tasked with training Afghan policemen. It was his second mission to the landlocked Asian country, having served their from 2008 to 2010 before returning to Baldwin City and the police department for a year during his son Gregory's senior year at Baldwin High School.
Baldwin City Police Chief Greg Neis said Schiffelbein was rehired to fill the position on the force of Kyle Bulmer, who was hired in August as school resource officer for Baldwin schools. Neis noted he was first hired to the department in 2009 when Schiffelbein left for his first mission.
He had no interest in returning to Afghanistan even if American troops weren't set to leave the country next year, Schiffelbein said.
"I'm done," he said. "My wife wouldn't let me go on another deployment. I'm tired of living in tents."
He spent his most recent deployment living in a crowded tent with other private contractors on a military base in northern Afghanistan, Schiffelbein said. There's less fighting in that part of the country and the Taliban have less a foothold on the local populace, but it is still not safe for Americans to move about freely.
"It was pretty much like being institutionalized," Schiffelbein said. "They told us when we could eat breakfast, lunch and dinner. We couldn't leave the base without a military escort. We would only leave to go on training missions."
He was embedded with a German military unit, Schiffelbein said. Their presence was welcome on training exercises.
"There have been a lot of Afghan police trainees who turned their weapons on their trainers," he said. "Their hiring process is to pretty much take anybody who shows up. There's not a lot of background checks."
The Afghan policemen he encountered were hungry for training, Schiffelbein said. It was the first most of them ever received. It consisted of such things as basic first aid and vehicle searches, an in-demand skill for those working in gated compounds targeted by car bombs, he said.
Schiffelbein wasn't optimistic about how the Afghans will fare after the departure of American forces from the country next year.
"They have a lot of challenges to overcome before they can stand on their own," he said.
He was able to stay in touch with his wife, Susan, son Gregory, who is now a student at Baker University, and junior high school daughter Alaina, Schiffelbein said. He sent Susan an email daily and communicated with her via Skype when he could.
"The Internet was very slow over there," he said. "I would hit send for an email and watch the circle of death for 20 minutes before it sent. The part of the country I was in had a lot of sandstorms that would knock the Internet down for hours."