United Way campaign kickoff spreads message of hope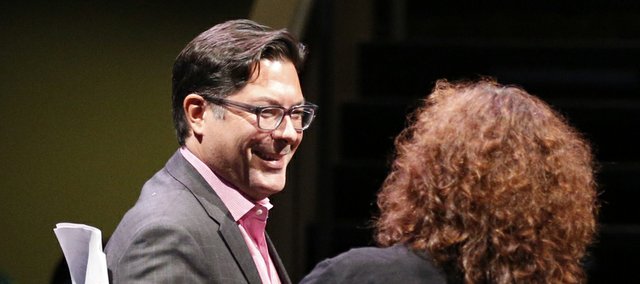 Spread hope if you got it.
That was the message of the United Way of Douglas County's annual kickoff event Tuesday: that people in the community who have an abundance of it should share it with those who don't.
"When you have a high-hope mindset, anything is possible," said Amy Kelly, board president for United Way of Douglas County, in front of about 170 people at Theatre Lawrence, where attendees enjoyed a sneak preview of the musical "Footloose."
The local United Way also announced that it hopes to raise $1.8 million by Dec. 31 in order to support its 29 community partners, social service agencies that aim to meet its goals of bettering education, health and self-sufficiency in Douglas County. The campaign has so far raised more than $300,000, including $223,000 from its "pacesetter" organizations.
"I think deep down you have to believe that you're really fortunate because of where you are and that maybe there's a blessing you have that you can share with someone else who's in not quite as good of shape," said Mark Buhler, who is co-chairing this year's campaign with his wife, Marsha.
Speaker Shane Lopez, a professor of business at Kansas University and a leading researcher in the role hope plays in people's lives, said while working for Gallup he learned there are two main things that just about everyone in the world wants: a good job and a happy family.
What often gets them there is having hope, which is what the United Way provides, he said. Lopez cited studies that found that hope leads to a 12 percent bump in school outcomes, or, in other words, "Hope is worth a letter grade." He also said that it makes people more productive at work, by a matter of 14 percent, or about a day a week.
But hope isn't related to IQ or income, Lopez said; rather, it's an "equal opportunity resource." The problem is, only half of Americans have it.
"Those who have hope have the responsibility to share that spare hope," he remarked. "Hope is contagious."