Baldwin soccer defeats Louisburg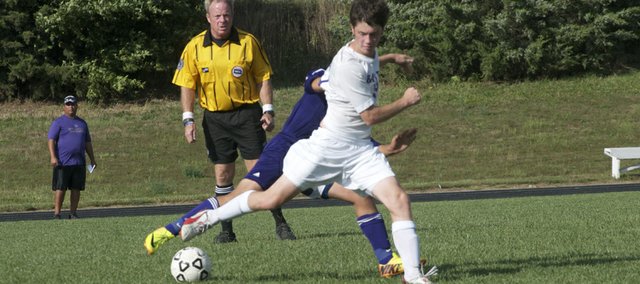 The Baldwin Bulldogs soccer team beat visiting Louisburg and an advancing thunderstorm to stay undefeated on the season.
The Bulldogs won the Frontier League contest, 5-1. The final 10 minutes were called because of lightening and a forecast that promised more of the same.
With the victory, Baldwin is 7-0-1 on the year and 4-0-1 in Frontier League play.
Although Baldwin pulled away in the match, the Wildcats proved stubborn early in the contest. The Bulldogs were first on the scoreboard when senior Nick Joslyn scored from in front of the goal with 29.08 left in the first half.
Louisburg tied the match at 17.29 when a penalty kick hit the crossbar near the left corner and bounded to a Wildcat player alone in front of the net.
The score remained tied until 46 seconds remaining in the half. Senior Russell Cloon scored what proved to be the winning goal when he broke free for the goal.
The Bulldogs offensive cranked up, starting with senior Duncan Murray's goal with 27.35 to play. Joslyn then scored his second goal when he took advantage of the wind to curve in a penalty kick with 26.11 remaining. Cloon was credited with the final score off a corner kick.
"I thought we played well," coach Mark Joslyn said. "Most of the game was played on our half of the field."
Baldwin will travel to Ottawa for a Frontier League match with the Cyclones at 6 p.m. Monday.