Baldwin boys first, girls third at Wamego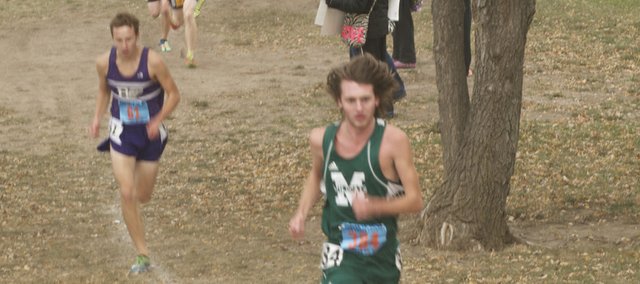 The state's top-ranked 4A Baldwin High School cross country boys won handily Saturday on the course where they hope to shine again in November.
The boys raced away from the 4A competition at Wamego to easily finish first at the meet. The course in the home of the 4A state cross country finals.
Four Bulldog runners were among the top 11 finishers. The team finished with 45 points, well ahead of the 86 points posted by second-place De Soto and 139 points of host Wamego.
Senior Ethan Hartzell paced the Bulldogs with a third-place overall finish and a time of 17:11.65. On his heels was sophomore Dakota Helm (17:12.16) in fourth place and sixth-place finisher junior Joe Pierce (17:26.43). Sophomore George Letner finished 11th with a time of 17:46.10 and sophomore Nevin Dunn was 21st (18:03.47).
"I thought we did a tremendous job," coach Mike Spielman said. "The boys ran a very dominating race. It was great weather and the kids times showed that, as they ran faster this week than last. I am very encouraged that all the hard work is paying off for teams.
"The girls did nice job of moving up during the race and came within one point of second."
The girls finished third at the meet behind Frontier League rival De Soto, which finished first with 57 points. Topeka-Hayden's 78 points edged Baldwin with 79.
Sophomore Addie Dick was first to cross the finish line for the Bulldogs with a time of 16:35.63. She was followed by senior Hannah Hutton in 16th place (16:59.12). Two Bulldogs, senior Libby Verhaeghe (17:05.12) and sophomore Mackenzie Russell (17:05.84) were 19th and 20th, respectively. Sophomore Fayth Peterson was 26th (17:22.67) and the final team member to score.
Baldwin will be at home Saturday for the nine-team Baldwin Invitational Meet. Unlike the Wamego meet that pitted the Bulldog teams against other 4A programs, all the other teams in Saturday's races will be 5A or 6A schools including St. Thomas Aquinas, Blue Valley Northwest, Lawrence Free State, Olathe East, Olathe South, Shawnee Mission East, Shawnee Mission South and Shawnee Mission West.
The race schedule is C-team girls, 9 a.m.; C-team boys, 9:30 a.m.; varsity girls, 10 a.m.; varsity boys, 10:30 a.m.; B-team girls, 11 a.m.; and B-team boys, 11:30 a.m.