Will young, healthy people purchase insurance under the Affordable Care Act?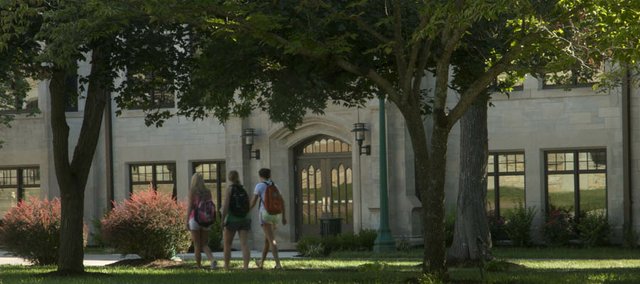 Nancy Delgado could get health insurance right now through her father's plan. She just chooses not to.
"It's less expensive to just go to the doctor whenever an issue arises," said Delgado, a 21-year-old pre-med student at Baker University in Baldwin City.
Delgado is just the kind of person the Affordable Care Act needs to sign up for its online health insurance exchanges, which begin open enrollment Oct. 1. The 2010 law, often known as Obamacare, has a goal of near-universal coverage in the U.S., but for that to happen many young, healthy Americans will have to buy insurance. Otherwise, experts say, costs may go up for everyone else, such as people with pre-existing conditions, who for the first time will be able to purchase insurance without restrictions.
Beginning next year, Americans will be required to carry some type of health insurance or they'll be fined $95 per adult (up to $285 for a family) or 1 percent of their family income — whichever is higher. The penalty, which will be levied on people's taxes, will eventually go up $695 per adult (up to $2,085 for a family) or 2.5 percent of family income starting in 2016.
But will young, healthy people buy subsidized coverage on the insurance exchanges or simply take the fine? A 26-year-old in Douglas County making $25,000 a year would pay an estimated $144 a month (after a $22-a-month tax credit) to purchase a plan on the exchange in Kansas, according to insureKS.org.
Sheldon Weisgrau, the Lawrence-based director of the Health Reform Resource Project, said the hype that the system will collapse because young Americans won't sign up is overplayed.
"Polls show that young people value insurance and want insurance and haven't bought it in the past because they can't afford it or it's too expensive. To that extent, the amount of the tax credit is going to be important," he said. "There are always people who will believe, 'I'm healthy, I don't need to remain uninsured.' But if you look at the polling data, I think young people get this more than I thought they would, and I'm expecting a lot of them to check out their options."
Mia Hartung, a 20-year-old junior at Kansas University, said that even though she is still on her parents' insurance — the Affordable Care Act allows Americans to remain on their parents' plans until the age of 26 — she couldn't imagine going without coverage.
"I would always have it, just in case. I know I could come down with an injury," said Hartung, a human biology major. "It might be the minimal coverage, but I'll always have something."
Linda Sheppard, special counsel and director of health care policy and analysis for the Kansas Insurance Department, said insurance commissioners, including Sandy Praeger of Kansas, have been concerned all along that the fine in the first year of the law wouldn't be great enough to entice the younger, healthier population to buy coverage.
"I always tell people, It doesn't take a genius to figure out you can't buy a year's worth of health insurance for $95," she remarked. "That being said, if there's someone who really is interested in having health insurance and you're talking about a young person who's maybe early into their work life and has a moderate salary, they may be eligible for a tax credit to pay for private health insurance. At some point, it may make sense."
Even so, people who would have to spend more than 8 percent of their income to buy insurance on the exchanges are exempt from the mandate. Many of those individuals would qualify for the law's Medicaid expansion, which several states, including Kansas, have not adopted.
Even though he was recently billed $15,000 for a two-day hospital stay, KU sophomore Jamie Smith said he will likely continue to go without coverage for the foreseeable future.
"I don't have any money to purchase insurance," said Smith, 28, an unemployed biology major. "I'll probably just pay the fine. What other option do I have?"