Flexibility the key for downtown business owner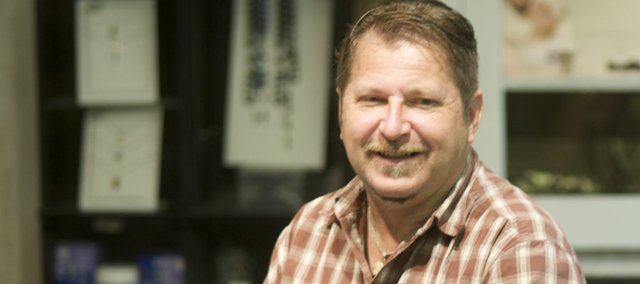 Mike Langrehr has learned it takes flexibility to make a living from art and creativity.
That flexibility is on display inside The Town Galleria he owns at 713 Eighth St. The store is a coffee shop, jewelry store, antique store and the base of Langrehr's sign business.
Like his career as an artist and designer, the shop has evolved as he introduced different things to make it more profitable. One such addition was the coffee shop with its selection of coffees, drinks, pastries, breakfasts and sandwiches.
"The coffee shop has really taken off this summer," he said. "A year ago, I thought it was going to die."
His artistic pursuits of jewelry creation and sign painting represent the core of his business, Langrehr said. Both are crafts he has pursued since he was a teenager, helping his mother Francelle Huffman paint murals on semi-trucks, vans and businesses.
"She's a wonderful painter," he said. "The thing I'm most happy about this business is having her come in and help. For her, this in fun."
As he got more into crafting jewelry he studied watch repair and was one of the last to learn to repair old manual watches, Langrehr said. That skill became obsolete with the introduction of electronic watches cheaper to replace than fix, he said. Although he replaces watch batteries, Langrehr is not entirely disappointed with the change in technology.
"Watch repair is boring," he said. "I'd prefer to be doing something creative."
Langrehr did stay engaged in the creative side of the jewelry business. At his shop, he sells pieces he designs, puts customers' stones in new settings he creates or purchases from providers and creates custom jewelry he designs through consultation with customers.
Computer graphics have put an end to the demand for the hand-painted murals and signs his mother created, Langrehr said. He has made a concession to that reality and now creates computer-designed vinyl lettered signs.
There are still customers, primarily bars and restaurants, that want something original, Langrehr said, and that gives him another opportunity to flex his creative muscle.
"For me, it's all about being creative," he said. "This place has grown from that. How it grows from here on out, I don't know."
One thing Langrehr plans to add soon is monthly shows featuring works of local artists.
"I just want to help other artists," he said. "I know how hard it can be for artists."